Closing the bank account is never a tough deal. All you need to make sure is if your account is ready to be closed. What I mean is there should be no negative balance or dues, and your bank account balance should be Zero. If you qualify these two things then you are almost ready to close M&T Bank account.
In this guide, I will tell you the two methods by following which you can close your account. But before that let me explain to you why I mentioned "Almost Ready". So you should make sure you have an alternative bank account that you can use after closing the one you have with M&T Bank.
After that cancel all the recurring payments, deposits, and auto-pay transactions you have setup with the bank. And set up the same transactions on your alternative bank account. This will help you ensure that your transactions are not harmed by this transition of you from one account to another.
But if you already have an extra bank account with another bank. Then there is no requirement to open a new bank account. But if you don't have. Then choose the right bank for you. And I recommend you to ask these questions to the bank before you open an account with them. These questions will help you to decide about the bank.
About M&T Bank

| | |
| --- | --- |
| Type of Bank | Public |
| Founded | August 29, 1856 |
| Headquarters | One M&T Plaza, Buffalo, New York, United States |
| Revenue (2019) | $6.455 billion |
| Net Income (2019) | $1.918 billion |
| Total Assets (2019) | $120.097 billion |
| Total Equity (2019) | $15.460 billion |
| Number of Employees (2019) | 16,840 |
| Official Website | www3.mtb.com |
Methods to Close M&T Bank Account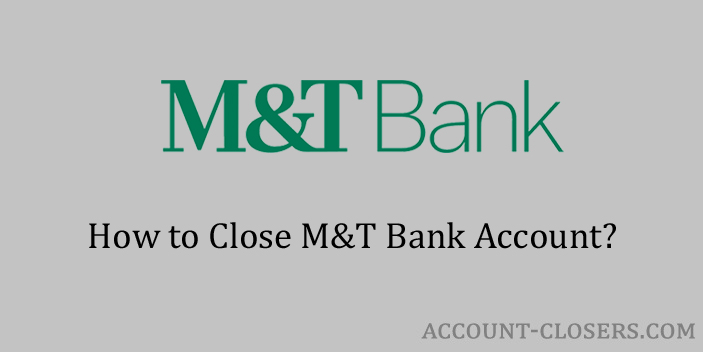 Here are the methods there is no such exact online method for all types of accounts. You can close the account offline by either calling the bank on phone or visiting the branch personally. I always recommend my readers to visit the branch of the bank to close the account. But the choice is left to you. In case you have a joint bank account then refer to this.
By Visiting Nearest Branch
Steps to Close M&T Bank Account by Visiting Nearest Branch:
By Calling Customer Care
Steps to Close M&T Bank Account by Calling Customer Care:
Call the customer care of the bank at 1-800-724-2440.
Ensure your bank account balance is Zero.
Talk with the customer support personnel on the phone.
Tell him or her that you want to close the account.
Provide your name and bank account number.
The support executive will ask you a few bank account verification questions.
Answer all the questions correctly.
The support personnel will check if your account is eligible to be closed on the phone.
If yes then your request to close the account will be taken.
How to Contact M&T Bank?
You can contact the bank online using the official website, social media profiles, and by phone. All the details have been mentioned below.
Contact Details of M&T Bank:
Conclusion
If you don't want to follow these two methods then you can also send the written request to the branch. But there is a proper format of letter for this. And the letter should be sent to the branch where you had opened the bank account. M&T Bank allows closing some types of accounts online as well. So I recommend you to contact the bank for more details.
References Used:
https://www3.mtb.com/content/mtb-web/en/homepage/explore-the-m-and-t-bank-help-center/discover-top-banking-tasks/closing-personal-or-business-checking-savings-account.html
https://en.wikipedia.org/wiki/M%26T_Bank