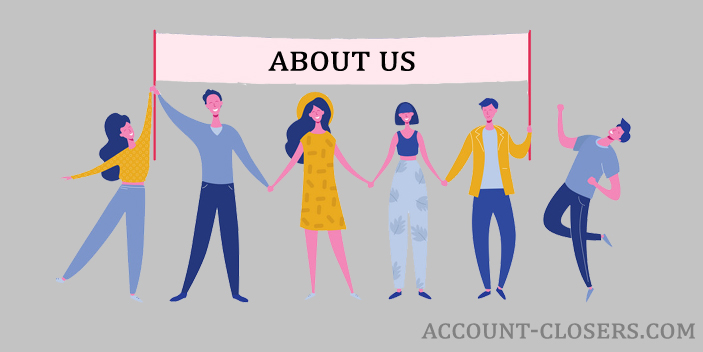 Welcome to Account Closers, We are glad to know that you want to learn more about us and our work.
Our Mission
"To Provide the Most Accurate Information and Steps for the People Who want to Close their Unused Bank Account(s) with a very Clean and User-Friendly Website."
Our Vision
"To Cover all the Banks Operating Around the Globe and Help the Account Holders to Close their Unused Bank Account(s) in both English Speaking and Non-English Speaking Countries."
What is Account Closers? (Account-closers.com)
Account Closers is a website where you can find the guides which will explain to you how you can close the bank account(s) you are not using or don't want to use. We here at Account Closers are covering the banks operating around the globe.
Currently, we are focusing on the banks which are operating in the English speaking countries. Slowly we will cover the Non-English speaking countries too.
How Accurate is the Information we Provide on Account Closers?
We try very hard to provide the most accurate information on how you can close your bank account. And what are the steps that you have to take before you can close your account?
We have designed a checklist that we follow before we start writing every guide about closing the account on Account Closers. You can find our guide checklist below.
We Select a Bank
We Refer to the Bank's Official Website
Then the Guide is Published on Account Closers
If you like our way of working or if you want to learn more about it then you can read our How We Work section of the website. We have published in-depth information about how things work on Account Closers.
Where is Account Closers Based?
Account Closers is being operated from Belagavi, Karnataka, India by a Blogger with more than 6 years of experience in content research, and content writing.
The blogger is Akansh N who is very interested in the topics related to banking, investment, and finance. Other than Account Closers Akansh N maintains 2 more websites that are based on the topics of Banking and Investment. Akansh N has a degree in Bachelor of Business Administration.
How Our Readers are Protected from Wrong Information?
Our main aim is to provide the most accurate information about closing the bank account. We have already mentioned the checklist we use before writing the guides. Along with that we also make sure that we provide the contact information of the bank in every guide published on Account Closers.
We also encourage our readers to contact the bank and verify the information which we have published on Account Closers. By doing this we are making 100% sure that we are not giving any wrong information to our readers. So that they will not face any kind of issues due to wrong information while closing their unused account(s).
How We Came Up with the Idea of Starting Account Closers?
There are so many websites that are guiding people who want to open a new bank account. But there are very few websites on the internet that are guiding people on how they can close their unused bank account(s).
We are very proud to say that Account-closers.com is the first website in the World that is completely based on the topic of closing the unused bank account(s). During our research, we did not find any website which is dedicated to this topic.
We Account Closers are the bridge with information between the banks and the account holders who want to close their bank account(s).
What Advice do We Give to Our Readers Before Closing the Account?
We are here to help our readers with all the information they should know when they are closing their unused bank account(s).
At the same time, we also make sure that they won't face any difficulties after closing their existing bank account. So we provide some advice to our readers which are mentioned below.
Open a New Bank Account. (only if they don't have an alternative account)
Make Sure they Don't have Any Dues and Negative Balances before Closing the Account.
Setting Up all their auto payments from their alternative bank account.
Update the details of their new bank account in every place from where they receive direct deposits or regular payments.
Talking to the bank's customer care before they visit the branch of the bank to close their account.
Visiting the bank's branch personally and not sending anyone from their friends and family to close the account.
Carry at least 2 forms of identity proof documents before visiting the branch of the bank.
Thank You for Reading About Us!
Other Important Links: