Sometimes we need to close the bank account, there can be so many reasons why someone may decide to close it. You can reach your bank and ask them to close it. In this guide, I will tell you the steps that you need to follow to close Citizens Bank account.
Before you start the process to close the account you should make sure you have an alternative bank account. After that check your account for any pending dues or negative balance. If there are any, then you first have to clear it. Because the bank will not allow you to close it without clearing the dues.
About Citizens Bank

| | |
| --- | --- |
| Type of Bank | Public |
| Founded | 1828 |
| Headquarters | Providence, Rhode Island, U.S |
| Revenue (2018) | US$6.128 billion |
| Net Income (2018) | US$1.721 billion |
| Total Assets (2018) | US$160.518 billion |
| Total Equity (2018) | US$20.817 billion |
| Number of Employees (December 2018) | 18,100 |
Methods to Close Citizens Bank Account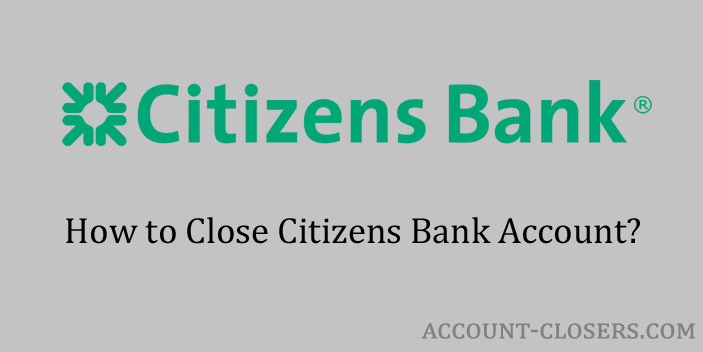 There are 2 methods that can be followed. But both the methods offline and there is no online method that can be followed by you.
Visiting Home Branch
Steps to Close Citizens Bank Account by Visiting Home Branch:
Locate the nearest branch of Citizens Bank.
Taken an identity proof document with you.
Visit the branch of the bank.
Speak with the bank officials.
Tell the bank officials that you want to close your account.
The officials will ask for your account number and the reason.
Tell your reason to close the account.
Bring down your bank account balance to zero.
Follow the instructions given to you by the bank officials.
Calling Customer Care
Steps to Close Citizens Bank Account by Calling Customer Care:
Call the customer care of the Citizens Bank at 1-800-922-9999.
Your call will be connected to speak with the customer support executive of the bank.
Tell the support executive that you want to close the account.
Provide your bank account number to the executive.
You will be asked a few bank account verification questions.
Answer the questions correctly.
The executive will ask you the reason, tell your reason.
Your account will be checked for any negative balance or dues.
If there are no dues the executive will take your request.
How to Contact Citizens Bank?
If you want to contact the bank then you can do that by calling them, using the official website, and on official social media profiles. I have given the contact details below.
Contact Details of Citizens Bank:
Conclusion
For more information about the charges and other things. I recommend you to contact the bank. If you planning to open a new account. Then make sure you choose the right bank for you. I recommend you to ask these questions to the bank before you are opening the account. If you are looking to close a joint account then refer to this guide.
References Used:
https://www.citizensbank.com/ask-a-citizen/Q440291942/How-can-I-close-my-checking-account.aspx
https://www.citizensbank.com/customer-service/contact-us.aspx
https://en.wikipedia.org/wiki/Citizens_Financial_Group