If you have a Capital One Bank account and want to close it. Then it is not a tough job as you think. But the thing is you just need to know the exact steps that you need to follow to close Capital One Bank account. This guide will help you out with all the steps.
It is not very hard but your bank account should be ready to be closed. Let me explain it to you. There should be no dues or negative balance in your account. Your contact and address details should be up to date. And at the same time, you should cancel all the recurring payments and transfers from your account.
But before you close your existing account I recommend you to make sure that you have an alternative account. In case you don't have then choose any bank and open a new account for you. But before you do that make sure you ask these questions to the bank. This will help you to decide if that bank suits your needs.
About Capital One

| | |
| --- | --- |
| Type of Bank | Public |
| Founded | 1994 |
| Headquarters | Capital One Tower, McLean, Virginia |
| Revenue (2018) | US$28.076 billion |
| Net Income (2018) | US$5.710 billion |
| Total Assets (2018) | US$372.538 billion |
| Total Equity (2018) | US$51.668 billion |
| Number of Employees (2019) | 48,800 |
| Official Website | www.capitalone.com |
Methods to Close Capital One Bank Account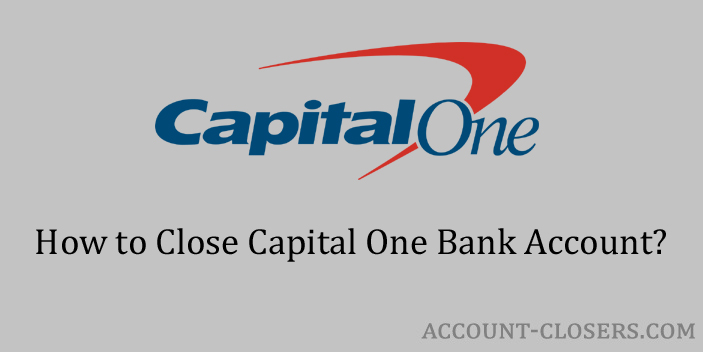 There are two methods by following which you can close your account. There are both an online method and an offline method. You can either use the support chat feature of the bank or call customer care. More instructions have been given below.
Calling Customer Care
Steps to Close Capital One Account by Calling Customer Care:
Call the customer care of Capital One at 1-888-464-0727.
Wait till your call is connected to one of their support executives.
Tell the executive that you want to close your bank account.
Provide your name and the bank account number.
The executive will then ask you a few bank account verification questions.
Answer all the questions correctly, this will help the support executive to verify your ownership of the account.
Once verified, the executive will check if your bank account is ready to be closed.
You will be asked the reason to close the account, and then if your account is ready your request will be taken.
Soon the request will be processed and your account will be closed.
Using Online Chat Feature
Steps to Close Capital One Account Online:
Visit the official website of Capital One.
Log in to your bank account.
Now go to the support page.
Open the chat support feature of the website.
This chat feature will help you to talk with the customer support team of the bank.
Tell the bank official chatting with you that you want to close your account.
Provide the details like your bank account number and your name.
The official will check if your account is ready to be closed.
And if ready your account closing request will be taken and soon will be processed.
How to Contact Capital One?
If you want to contact the bank then you can do that by calling them, using the official website, and on official social media profiles.
Contact Details of Capital One:
Conclusion
Once you have requested the bank to close your account, you can not use it in any way. And also keep in mind that the closed accounts will remain visible online for 105 days. In case you want to download the account statement then you can do that in these 105 days. Your Bank account balance should be zero before you start the process. Contact the bank for more details about the same.
References Used:
https://www.capitalone.com/support-center/bank/close-bank-account
https://en.wikipedia.org/wiki/Capital_One