Sunrise Bank is one of the many commercial banks that are operating in Nepal. And today's guide is for the people who have an account with this bank. But no longer want to be a part of its customer base. There is no doubt that Sunrise Bank is a good one. But everyone will be having their own reason to close the account. In this guide, I will explain to you the complete steps you need to follow to close Sunrise Bank account.
Once you request to close your bank account you will not be able to use it anymore. So before you close it down I recommend you to download your account statements for at least the last 6 months to 1 year. Also, the automatic payments will not work once the process of closing down starts. So cancel all your automatic payments from your Sunrise Bank account and set up them from your alternative bank account.
Before you reach the bank to close your account there are a few things you should take care of. The first one is there should be no negative balance or dues pending in your account. If you have any then you should take steps to clear all those dues first. If you need help with the dues of negative balance then you can contact your bank. And the second thing is your bank account balance should be zero on the day you are closing it.
About Sunrise Bank Limited

| | |
| --- | --- |
| Type | Public |
| Founded | 12 Oct 2007 |
| Headquarters | Gairidhara Crossing, Kathmandu, Nepal |
| Area Served | Nepal |
| Official Website | www.sunrisebank.com.np |
Steps to Close Sunrise Bank Account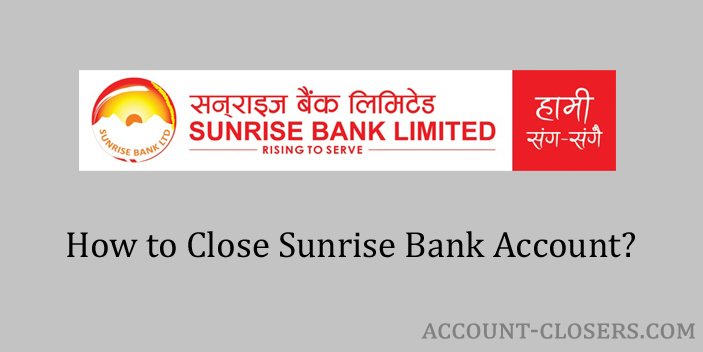 There is no online method that you can follow to close the account. And that is the reason why I have explained only the offline method below.
Steps to Close Sunrise Bank Account:
How to Contact the Bank?
The bank may or may not charge you for the closure. It depends upon the type of account you hold. For more accurate information you can contact the bank. I have provided all the contact information below. You can call the bank, message on the bank's official social media profile. The details are taken from the official website of the bank.
Contact Details of Sunrise Bank Limited:
Conclusion
This is how you can close your individual account in Sunrise Bank. In case you want to close a joint bank account then refer to this guide. And if you want assistance in choosing your new bank. Then read my list of questions you should ask your new bank before opening an account with them.
References Used:
https://en.wikipedia.org/wiki/Sunrise_Bank
https://www.sunrisebank.com.np/contact-us