If you have decided to close down your bank account then I am here to help you out in this case. In my today's guide, I will tell you the steps you need to follow to close Citizens Bank International Account. The steps are very simple, and I will guide you through all of them.
The process is not at all complicated you should just know some simple things about which you should take care of. Like the first one is you should not have any dues pending or negative balance in your account. Because the bank will not allow you to start the process if you have any dues.
So in case you have any dues then you should first clear all those. This is not the case only with Citizens Bank international. Almost all the banks operating in Nepal and around the globe don't allow the customers to close the account without clearing the dues.
The second thing is there is no online method to close the account. So you will have to follow the offline method by visiting the branch. Only the account holder has the right to close it so make sure you don't send anyone from your friends or the family. And in the case of a joint bank account, all the holders should give their consent.
About Citizens Bank International Limited

| | |
| --- | --- |
| Type | Public |
| Founded | June 21, 2007 |
| Headquarters | Kathmandu, Nepal |
| Official Website | www.ctznbank.com |
Steps to Close Citizens Bank International Account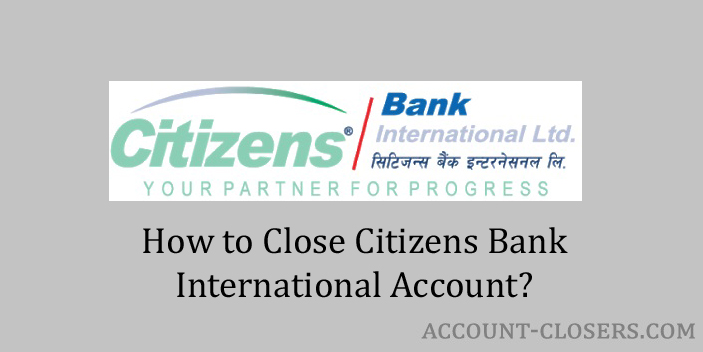 Before you close your existing account make sure you have an alternative bank account to use. If not then choose a good bank for you. Ask these questions to the bank, and if you are satisfied with the answers you can open the account with them. If not choose a different bank.
Steps to Close Citizens Bank International Account:
How to Contact the Bank?
For more information you can contact the bank on their official website, by calling them, sending them a mail. If you want then you can also reach the bank on their official social media profile. All the contact information is given below.
Contact Details of Citizens Bank International Limited:
Conclusion
If you don't know how you can clear your dues or negative balance then you can call the bank. The officials will be help you out with it. Basically, you will have to deposit an equal amount of money to bring the balance to zero.
References Used:
https://en.wikipedia.org/wiki/Citizens_Bank_International
https://www.ctznbank.com/about-us/corporate-profile
https://www.ctznbank.com/grievance-handling