If you want to open a bank account then you have a good amount of choices. I am talking about the banks that are running the operations in Nepal. If you don't like the service of your bank then you can switch to another bank. But before making the switch you should also know the process to close your existing account. So here I am with this guide which will explain to you the steps you need to follow to close the Agricultural Development Bank account.
This bank is also known as ADBL in Nepal is one of the prominent banks in the country. Before you approach the bank to close the account you should ensure you don't have any negative balance in the account. If you have any then you first have to clear all the dues and negative balance. Then the bank will allow you to start the process of closing the account. Not only ADBL but all the banks require the customers to clear the dues before closing the account.
Before you close the existing account you should make the arrangement or your alternative bank account. This will help you in the smooth transition from the old account to the new account. If you are still undecided about the new bank. Then read my guide in which I have listed 9 questions you should ask your new bank. Based on the answers you receive from the bank you can decide if you should open the account or no.
About ADBL (Agricultural Development Bank Limited)

| | |
| --- | --- |
| Type | Public |
| Founded | January 1968, 21 |
| Headquarters | Kathmandu, Nepal |
| Official Website | adbl.gov.np |
Steps to Close Agricultural Development Bank Account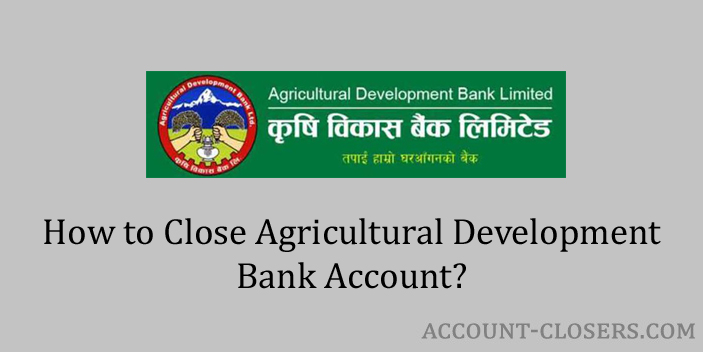 There are no online methods to close the account, the only method available in an offline method. In this method, the account holder should visit the branch of the bank. And in the case of a joint bank account the all the holders of the account need to give their consent to the bank regarding the closure.
Steps to Close ADBL Account:
How to Contact the Bank?
You can call the bank and also send them an email. The contact information mentioned below is taken from the official website of the bank. I did not find any official social media profiles of the bank. That is the reason why I have not mentioned any.
Conclusion
This is how you can close your bank account with ADBL. If you have any kind of doubts in your mind then you can contact the bank and get it cleared. You can use the contact information mentioned above.
References Used:
https://en.wikipedia.org/wiki/Agriculture_Development_Bank
http://adbl.gov.np/contact_us.html