Rastriya Banijya Bank which is also known as RBB is the largest bank in Nepal and is fully government-owned. But there can be a number of reasons why you might be closing the account. Some of us might have personal whereas some can have professional reasons. In this guide of mine, I will tell you the steps you need to follow to close Rastriya Banijya Bank account.
The process is very simple, but there is no online method to close the account. So you will have to visit the branch of the bank following an offline method to close it. However, there is no need to worry as the process is very simple. All you need to make sure is you don't have any negative balance in the account. And fill the account closure request form that is available at the branch.
Once you do it the bank will begin the process of closing your account. Please keep in mind that once the process begins you won't be able to make use of your account for any kind of transactions. So to avoid such circumstances I recommend you to arrange an alternative bank account for you. Just choose any one bank out of many operating in Nepal. And open the account with it.
You can also refer to my list of 9 questions you can ask the bank before opening the account. These questions will help you to understand if the bank is good for you. Based on the answers you receive from the bank you will be able to decide easily. But this time make sure you choose the right bank for you. Because it is not at all a good idea to switch between banks often.
About Rastriya Banijya Bank (RBB)

| | |
| --- | --- |
| Type | Government Owned |
| Founded | January 23, 1966 |
| Headquarters | Singhadurbarplaza, Kathmandu, Nepal |
| Area Served | Nepal |
| Official Website | rbb.com.np |
Steps to Close Rastriya Banijya Bank Account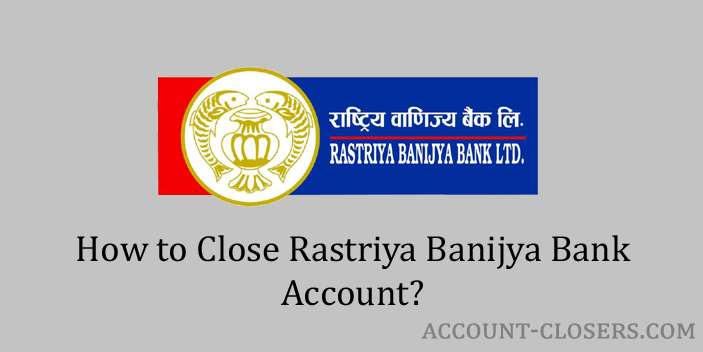 The steps explained below can be followed by the people who have an individual account with RBB. If you have a joint bank account, then refer to this linked guide. There are no big differences in the steps of closing an individual account and a joint account. But in the case of the joint account, all the account holders need to provide their consent to the bank before it can be closed.
Steps to Close Rastriya Banijya Bank Account:
How to Contact the Bank?
For more information about closing your account and closing charges, you can contact the bank. You can reach the bank on their official website and by calling them. I did not find any official social media profiles of the bank. So I have not mentioned any below.
Contact Details of Rastriya Banjiya Bank:
Conclusion
This is how you can close your bank account. Before you start the process also make sure you cancel all the automatic payments from your account. Because once the account is closed all the payments will start failing.
References Used:
https://en.wikipedia.org/wiki/Rastriya_Banijya_Bank
https://rbb.com.np/