Usually, people feel it is a tough task to close a bank account. But it is not true, it is quite easy to close it. Provided if you know the exact steps you need to follow. If you don't know then there is no need to worry. Because I created this guide for those people who want to close NMB Bank account.
If you have an account with this bank and now you have decided to close it. Then I am here to help you out with the exact steps and the information you will require to do it. The first thing is you should make arrangements for your alternative bank account.
The alternative bank account will be the account that you can use once your NMB Bank account is closed. Just choose any one of the banks that are operating in Nepal. And open the account with them, in case you want assistance. Then I have something for you.
I have published an article in which I have mentioned a list of 9 questions. You can ask these questions to your new bank. And based on the answers you receive from the bank you will be able to decide if you should open the account with it or no. If you feel the bank is not right for you then go for another bank there are many in Nepal.
Then comes the second thing and it is about the dues and the negative balance. If you have any dues pending then the bank will not allow you to close the account. So take the necessary steps to clear all the dues pending in your account. And then the bank will allow you to start the process.
About NMB Bank Nepal

| | |
| --- | --- |
| Type | Public |
| Founded | 2008 |
| Headquarters | Kathmandu, Nepal |
| Number of Branches | 160+ |
| Official Website | nmbbanknepal.com |
Steps to Close NMB Bank Account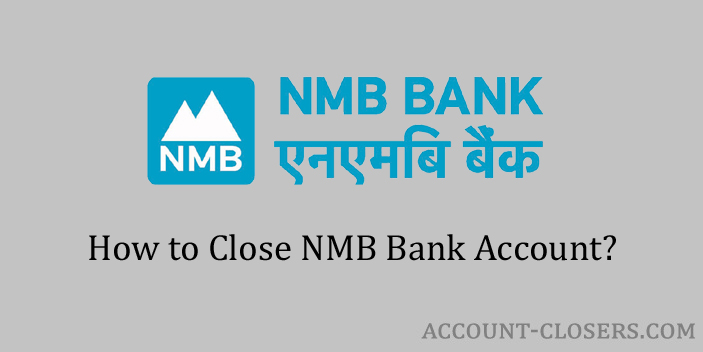 I have explained an offline method below which can be used by the people who have an individual account with the bank. There is no online method. And in case you have a joint bank account then read this linked guide.
Steps to Close NMB Bank Account:
How to Contact the Bank?
You can use the official website, call the bank, send them an email, and also message the bank on their official social media profile. All the contact details are mentioned below.
Contact Details of NMB Bank Nepal Limited:
Conclusion
The officials may ask you to show your identity proof document. And if they ask you to surrender your debit cards and unused cheques then you will have to do it. The bank may or may not charge you for the closure. To know exactly about it contact the bank using the details provided above.
References Used:
https://en.wikipedia.org/wiki/NMB_Bank_Nepal
https://nmbbanknepal.com/