If you have decided to close your Prabhu Bank account then you can do that by visiting the branch only. As of now, there is no online method that you can follow to close it. In this guide, of mine, I will tell you the complete steps you need to follow to close your bank account.
The process is very simple but before you start the process you should make an arrangement for an alternative bank account. That is because it will help you in a smooth transition from your old account to the new account. You can choose any bank out of many banks operating in Nepal.
If you are still undecided or need help in choosing your next bank. Then you can read my list of questions you should ask your new bank. Ask these questions and if you are satisfied with the answers you receive then you can open the account with that bank. If not then you can think about any other bank.
In the process, the first thing you should make sure of is there should be no negative balance in your account. In case you have any kind of dues pending in the account. Then you first have to clear all of those. And only then Prabhu Bank will allow you to start the process.
On the day you go to the bank to close your account. You need to bring your balance down to Zero. Just withdraw all your money or transfer it to your alternative bank account. But you should not make your balance zero well in advance. Do it only on the day you are closing the account.
About Prabhu Bank

| | |
| --- | --- |
| Type | Public |
| Headquarters | Kathmandu, Nepal |
| Area Served | Nepal |
| Official Website | www.prabhubank.com |
Steps to Close Prabhu Bank Account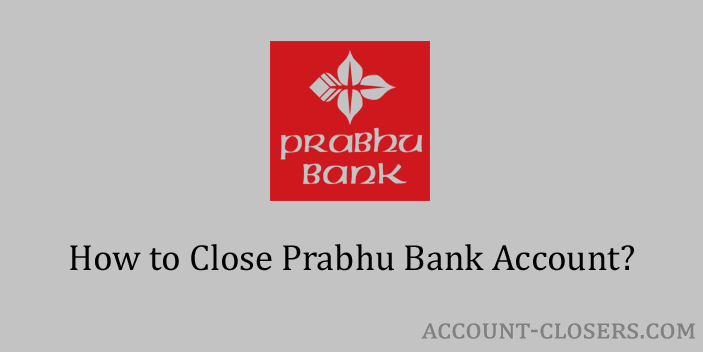 The steps of the offline method to close the account are mentioned below. These are for the people who want to close the individual account. If you have a joint bank account then refer to this linked guide.
Steps to Close Prabhu Bank Account:
How to Contact the Bank?
If you want to get in touch with the bank then you can use the below-mentioned contact information. You can call the bank or mail them. The contact details mentioned here are taken from the official website of the bank.
Contact Details of Prabhu Bank:
Conclusion
Follow these 9 steps and you will be able to close your account. Also, keep in mind that the bank may or may not charge you for the closure. For more details about the same, you can contact the bank.
References Used:
https://en.wikipedia.org/wiki/Prabhu_Bank
https://www.prabhubank.com/contact-us