No matter in which country and which bank you have the account with. If you want to close it then you need to follow certain rules and regulations. And in this guide of mine, we will be discussing the same. I will tell you the complete steps that you need to follow to close Civil Bank account.
The process is very simple the first thing you should note is there should be no dues pending or negative balance. In case you have then you will first have to clear those. And the bank will allow you to start the process to close the account. But once the process starts you can not use the account in any way.
Also, keep in mind that if you have set up any automatic payments in your account then those will start failing. So you should cancel those automatic payments from your Civil Bank Limited account. And set them up in your alternative bank account.
As of now in banks operating in Nepal, particularly in the case of Civil Bank. There is no online method to close the account. So you will have to follow the offline method in which the account holder has to visit the branch of the bank. And if you want to close a joint bank account then all the account holders should provide consent to the bank.
About Civil Bank Limited

| | |
| --- | --- |
| Type | Public |
| Founded | November 26, 2010 |
| Headquarters | Kathmandu, Nepal |
| Area Served | Nepal |
| Official Website | www.civilbank.com.np |
Steps to Close Civil Bank Account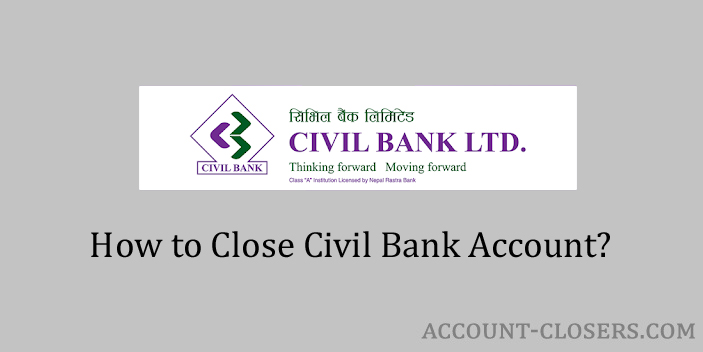 Before you close your existing account make sure you have an account with another bank. If you are still undecided about your new bank. Then read my guide in which I have mentioned the questions you should ask your new bank. Just ask these questions before you open the account.
Steps to Close Civil Bank Account:
How to Contact the Bank?
For more information, you can use the contact information given below I have taken this from the official website of the bank.
Contact Details of Civil Bank:
Conclusion
Follow these simple steps and you will be able to close your account. The bank may or may not charge you for the account closure. So I recommend you to contact the bank and ask the officials for confirmation. You can use the contact information provided above.
References Used:
https://en.wikipedia.org/wiki/Civil_Bank
https://www.civilbank.com.np/customer-center