There are so many banks that are operating in Nepal. If you don't like the service of your existing bank then you can switch to another. But before you switch it is a healthy practice to close the bank account that you are no longer going to use. In this guide of mine, I will tell you how you can close NIC Asia Bank account.
Before you close the account you should make arrangements for your alternative bank account. Just choose a bank and open an account with them. In case if you are undecided about your next bank. Then you can ask these 9 questions to your new bank. Based on the answers you can decide if you should open the account or no.
When you have your alternative bank account ready it will help you in a smooth transition from the old account to the new one. Other than this thing you should also make sure that you don't have any dues or negative balance pending in the account. If in case you have then you will have to clear those first.
Almost no bank operating around the globe allows the customer to close the account without clearing the dues. Basically, you have to make sure that you bring your balance to Zero. If you have a negative balance then deposit equal funds. And if you have a positive balance then withdraw the funds to make it zero.
About NIC Asia Bank

| | |
| --- | --- |
| Type | Public |
| Founded | 1998 |
| Headquarters | Nepal |
| Area Served | Nepal |
| Official Website | www.nicasiabank.com |
Steps to Close NIC Asia Bank Account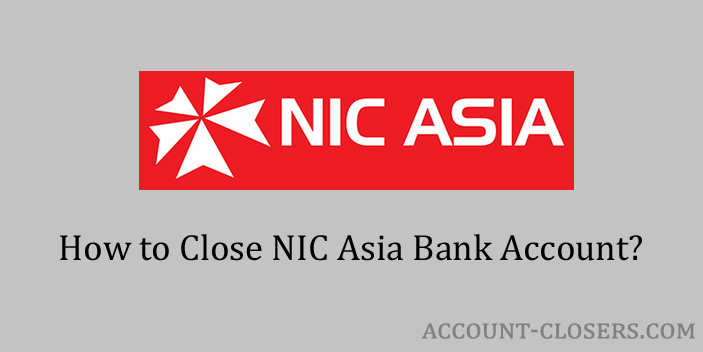 There is no online method to close the NIC Asia Bank account. So you will have to follow the offline method which I have explained below. This method works for the individual accounts in case you have a joint bank account. Then you can read this linked guide.
Steps to Close NIC Asia Bank Account:
How to Contact the Bank?
You can reach the bank using the official website, official social media profiles, and by calling them. I have provided the contact details below.
Contact Details of NIC Asia Bank:
Conclusion
Once the bank starts the process of closing your account you can not make any transactions using your account. And to know about the account closure charges, I recommend you to contact the bank itself. Because the bank may or may not charge you. It all depends upon the type of your account, and the time when you are closing it.
References Used:
https://en.wikipedia.org/wiki/NIC_ASIA_Bank
https://helpdesk.nicasiabank.com/support/solutions/articles/35000136665-how-do-i-close-an-account-what-are-the-charges
https://www.nicasiabank.com/contact-us