There is a good amount of competition in the banking industry of Nepal. We have got so many banks that are operating in Nepal. But today we are going to talk about the largest commercial bank in the country. I am talking about Siddhartha Bank. In this guide of mine, I will tell you how you can close Siddhartha Bank account.
The process is very simple if you have no negative balance in your bank account. In case you have any dues pending or negative balance. Then you will first have to clear those and then the bank will allow you to close the account. You just have to make sure that your balance is Zero on the day you are closing the account.
There is no online method to close the account, the only available is the offline method. In this method, the account holder has to visit the branch of the bank and fill out the account closure request form. And in the case of a joint bank account, all the account holders need to provide their consent to the bank.
I will explain the same in an elaborated manner to you. But before you close your existing account. You should make sure you have an alternative bank account ready with you. This will help you in a smooth transition from the old to the new account.
If you need help in choosing a new bank. Then you can read my article in which I have mentioned 9 questions you ask your new bank. Just ask these questions to your new bank before you open the account with them. Based on the answers you receive from the bank you can decide if you should go for it or no.
About Siddhartha Bank

| | |
| --- | --- |
| Type | Public |
| Headquarters | Hattisar, Kathmandu |
| Area Served | Nepal |
| Official Website | www.siddharthabank.com |
Steps to Close Siddhartha Bank Account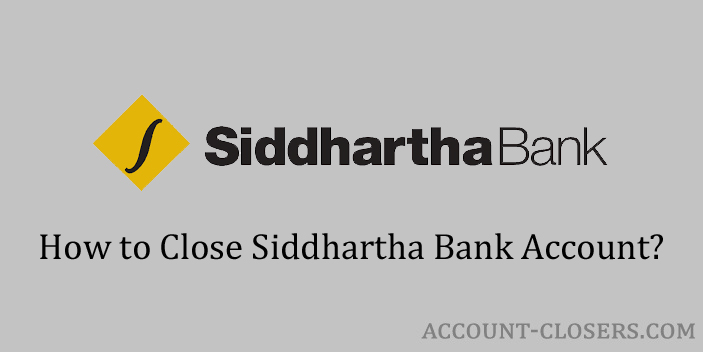 As per the information mentioned on the official website the bank will not charge you anything to close the account. Follow the instructions given below to close your account.
Steps to Close Siddhartha Bank Account:
How to Contact the Bank?
You can contact the bank by calling them, sending them an email, and also messaging them on their official social media profile. The contact information mentioned below is taken from the official website of the bank.
Contact Details of Siddhartha Bank:
Conclusion
This is how simple it is to close your account. Just make sure you don't have any negative balance in your account. Also, you should keep in mind that once the bank starts the process you can not use your account in any way. For more information, I suggest you contact the bank.
References Used:
https://en.wikipedia.org/wiki/Siddhartha_Bank
https://www.siddharthabank.com/userfiles/FAQs_Deposits.pdf
https://www.siddharthabank.com/Contact-Info/268/