In simple words, bank officials are the people who are working for the bank. When you visit the bank, the employees who are present in the branch are the bank officials.
The bank officials will be ready to help you out with the issues you are facing with your bank account. When your issue is not solved after contacting the customer care of the bank.
The best thing you can do is to locate the nearest branch of your bank and visit it. Speak with the bank officials, share your problem, and get it solved.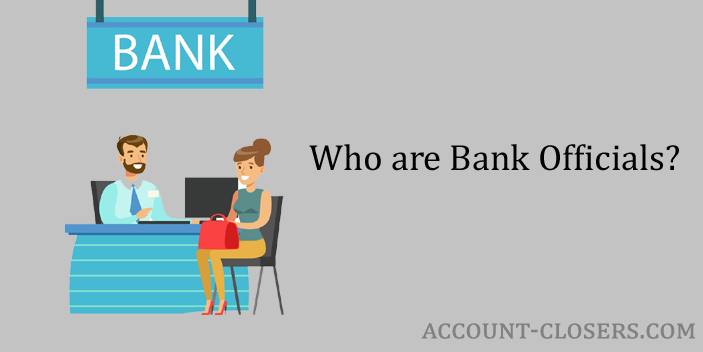 Who to Meet after Visiting the Branch?
Now we know who are the officials. But now the question in front of us is with whom should you speak at the branch.
I recommend you to go to the help desk of the branch. The officials sitting at the help desk will ask about your problem. And they will refer to the concerned department.
Later go to the counter or to the person to whom you have been referred.
For example, you have issues with your debit card. In this case, you have to go to the counter of the branch which deals with debit cards.
In case you don't know where exactly the debit card department or counter is. You can always take help at the help desk of the branch.
Will Bank Officials Ask Me My Confidential Information?
This is the most important thing that you should know.
The bank officials will never ask you to share the confidential information of your bank account.
Here what I mean by the confidential information is the username, password, MPIN, PIN number, debit card number, CVV number, etc.
Nobody from the bank will ever call you to ask for such details. And if you ever receive any such calls and emails you should never share any of your details.
Then What Can I Share with the Bank Officials?
You should only share the required details with the officials. Tell the officials what problem you are facing with your bank account. Then provide them your name and bank account number.
These two things are more than enough for them to identify your bank account and assist you. The official of the bank will ask you to show your identity proof document.
And in some rare cases, you will have to answer the bank account verification questions. Once you verify your account ownership by showing the identity proof document or answering the questions. The officials will be able to help you out with the issues.
References Used:
httpss://legal-dictionary.thefreedictionary.com/Bank+Officials
httpss://en.wikipedia.org/wiki/Bank_officer
httpss://www.lawinsider.com/dictionary/bank-employee