All of us know that we can complete most of the banking tasks right from our place using online banking. But still, there are many things that can not be done using online banking. If you want to make any big changes to your bank account then you have to personally visit the bank branch with some important documents.
This guide is all about the documents you should carry while your visit to the bank branch. However, it totally depends upon the change or the alteration you want to make to your account. But I will tell you about the two documents that you should always carry with you while you visit the nearest branch of your bank.
Can I Send Someone Else to Bank Branch with My Documents?
Sometimes we can not personally go to the branch of the bank. In such cases, we get an idea in our minds. And that is sending someone from our friends or family to the bank with our documents.
But can we do that?
The answer to this question in most cases is No. You can not send anyone from your friends and family to make changes to your account.
This is because usually, banks allow only the real account holder of the bank to make the changes to the account.
But still, there is room for this.
In some special cases, you should inform the bank that you are not in the situation to come to the bank. And you are sending someone else as your substitute to the bank.
If your bank allows you then you can send your substitute.
For example, you are at an overseas location and you can not come back to go to the bank branch.
What Kind of Changes I am Talking About?
Here I am talking about the major changes to your bank account. I have listed them below for you.
You want to change your signature.
The address in your account needs to be changed.
The registered mobile number on which you receive your transaction notifications and OTP needs to be changed.
You want to close your bank account permanently.
If you want to make any of the changes that are mentioned above or something similar. Then you can not send someone else to the bank branch. You personally have to visit the branch.
Which Documents Should You Carry to the Bank Branch?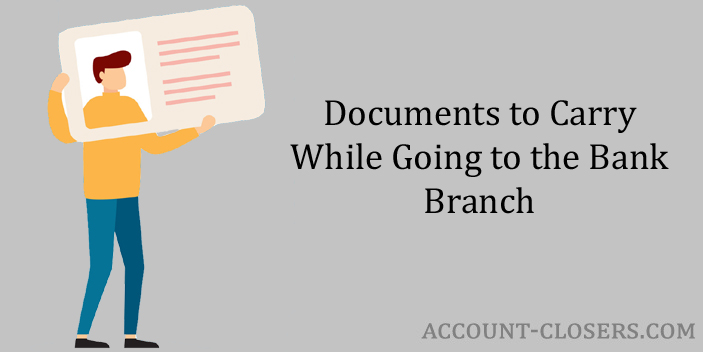 Now you know in what cases you need to visit the bank branch. So it is time for us to discuss the documents which you should carry with you on your visit to the bank branch to make any kind of changes.
As I have already mentioned that the set of documents you should carry will change depending upon what you want to do. But I will tell you about the 2 documents you should always carry on your visit to the bank branch.
Document 1: Appropriate Identity Proof Document
You should always make sure that you have an appropriate identity proof document with you whenever you visit the bank.
This is a document that will prove your identity. The bank officials will match the identity proof document you have with the ones in the bank records.
If the things match then you will be allowed to access and also make changes to your bank account.
Examples of Identity Proof Documents:
Valid Passport.
Social Security Card.
Identity Card issued by the Government.
Driving License issued by the state.
Department of Defense Identification Card.
National Age Card.
Document of Identity.
Certificate of Identity.
Citizenship Certificate.
Document 2: Bank Passbook
If your bank has issued you a bank passbook. Then it is always recommended that you should carry your bank passbook with you.
Because if you have your bank passbook which has a photograph of you. The banks will accept that you are the real owner of the bank account.
Your bank passbook will be having details like your bank account number, date of birth, etc. This document can also help you to answer the account verification questions if asked to you.
Conclusion
The identity proof document and the bank passbook are the two important documents that you should carry with you while visiting the bank branch. For more details, you can contact the customer care of your bank.