If you are planning to visit your bank branch then there are a few things you should keep in mind. I have listed the major things in your guide of mine. The first and the foremost thing you should do while visiting the bank branch is clear about the objective of your visit. After that go through the things mentioned below.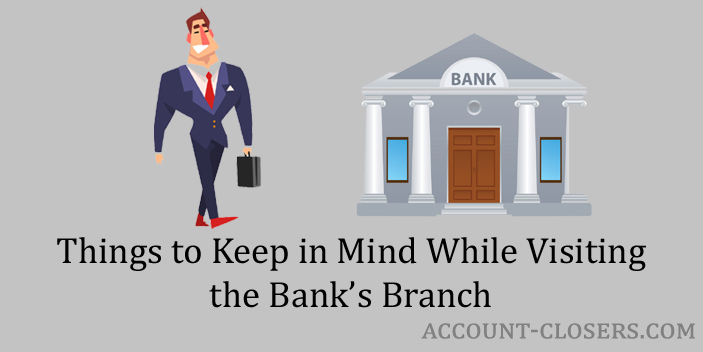 Check if It is a Working Day
There are different types of banks that are operating around the globe. Every bank has its own style of operating and timing as well. Some banks remain close on a weekday whereas some other banks remain close on weekends. So before you plan your visit check if it is a working day for your bank or no.
Keep Basic Details in Hand
When you visit the bank and speak with the bank officials they will first ask how they can help you. And when you tell them what help you need for them. The bank officials will ask for your name and bank account number. So you should make sure you have your account number ready with you on a piece of paper or on your smartphone.
Carry your Original Identity Proof Document with You
When you are visiting the branch of your bank for using the banking services. You should make sure you have any of your identity proof documents with you. Nobody from the bank officials will ask you to submit the original copy for anything. But the officials may ask you to show the document for verification purposes.
There are some documents which you should carry while your visit to the branch. I have published a dedicated article which covers them you can read it here.
Avoid Peak Times if Possible
It is always better to avoid peak timings while visiting the branch. This is because there will be too many people there and you will have to wait for your turn to come. So identity the peak timings in your region and visit when there will be fewer people at the branch.
Check if You Can Use Services from Any Branch of Your Bank
There are some banks who want their customers to visit the location or branch of them where he or she had opened the account. And on the other hand, there are some banks that allow their customer to use their services from any of their branches.
So make sure you verify this thing with your bank. You can contact the bank and ask them beforehand to visit the branch. If they allow you to use any of their branches then that is great. In case they do not allow you will have to visit your branch of the bank only.
If you want to learn how you can locate your nearest branch of the bank then read this guide.
Don't Share any Sensitive Information with Anyone
It is very important that you don't share any of your sensitive account information with anyone. While at the branch of the bank you have to make sure you communicate only with the bank officials. Avoid communication with strangers who are at the branch.
And the bank officials will never ask for any kind of sensitive information about your account. They will never ask you to provide your username, password, etc. This stands true if you are personally visiting the branch and also if you are speaking to the customer support of the bank.
Conclusion
These are the things you should keep in mind while visiting the bank branch. One more thing I would like to add for you. And that is few banks require the customers to make an appointment with the relationship manager before the visit. So check it with your bank.