You have to return your old or unused cheque book to your bank when you are closing your bank account. If you are not closing the account, then you should destroy all of your unused cheques. It is not recommended to throw the unused cheques.
Cheque books are very helpful in making the payments. And when we open the account with any of the bank they provide us the book. Some banks provide the book for free and some of them charge the customers extra for the book.
Now we all know how the system of cheque works globally. All you have to do is issue a cheque using the book that is linked with your bank account. The banking name of person or the company to whom you want to pay the sum of money should be mentioned in the cheque.
Later that person or the company will present that cheque to the bank and that is when a debit transaction will take place in your account. Provided you have sufficient balance in your account. Your bank will debit the sum mentioned in the cheque from your account and pay the same to the beneficiary.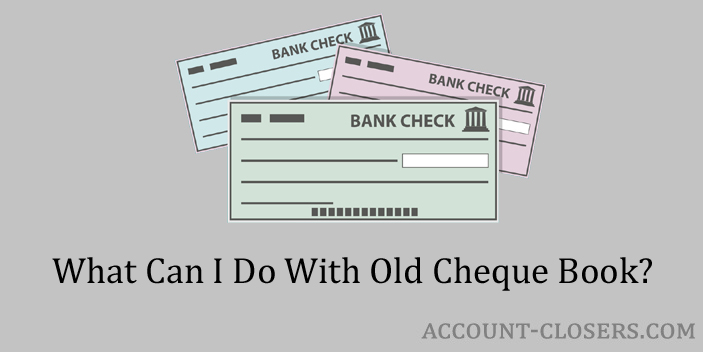 But what to do with the unused cheques or the cheque book?
There are two scenarios here and they are,
You are closing down your bank account.
The bank has issued a new cheque book to you.
I will explain both scenarios to you.
What to Do If You are Closing the Account?
When you are closing the account, your bank will ask you to submit all the unused cheques and debit cards to them. If you fail to submit it then the bank will ask you the reason why you are not doing it.
So if you are closing down your bank account then while you visit your nearest branch. You should carry the book and submit it to the bank.
Should I Throw my Unused Cheques?
No, you should not throw your unused cheques here and there. It should be returned to your bank or you should properly destroy the book if you don't want to use it.
If you throw your book somewhere, then there are chances that the bank can be misused by someone who gets it. You can cut the book into pieces or use a shredder machine.
I have Received New Book Should I Destroy Old One?
If you are not closing your bank account then you can use your old book as well. (Until you have cheques) Once you have used all your old book cheque leaves you can start using your new one.
Do not destroy your old book without confirming it with your bank. Contact your bank and ask them if your old book is unusable. If they say yes then you can destroy the old book if not then you can perfectly use it.
In the other case if you are closing the account or already have closed it then you can destroy both your books. (old and new)