These days we can do many things related to the bank account online. But still, to make a considerable big change to the account we have to go to the branch of the bank. But have you ever wondered how you can locate nearest branch of the bank?
This guide will tell you a few simple methods by following which you can locate the nearest branch of your bank. For example, if you want to close your bank account. Then the recommended way to do that is by visiting the branch of your bank which is near to your current location.
Ways to Locate the Nearest Branch of the Bank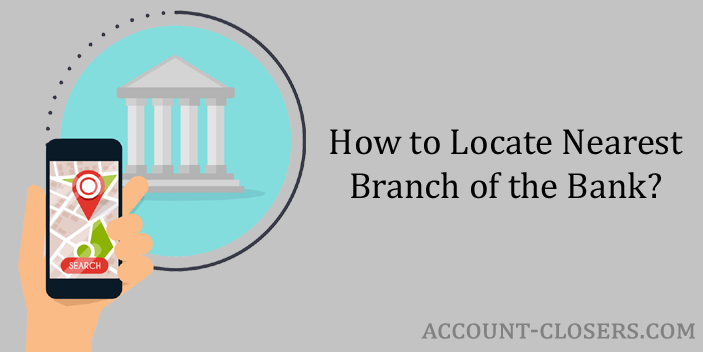 There are a number of ways to do it. But I have mentioned some of the ways to locate the nearest one. Choose any one of the below-mentioned ways and follow the instructions.
Ask The Locals
If you are new to the place then you probably will not be knowing much about the place. But the locals who reside in that place for a long period of time will be knowing the things. So here you can take the help of the locals, ask them where is the branch of your bank. And they will be able to help you out with the location.
Contact Customer Care
Find out the customer care phone number of your bank and call them. Ask the customer care executive about the nearest branch of the bank in your region. The executive will ask you for the Area ZIP Code or PIN Code. Tell your Area code and the customer care executive will tell you about the locations of all the branches in your area with the address.
Use the Bank's Official Website
Visit your bank's official website using your smartphone or computer. There will be a separate section of 'Branch Locator". Open the branch locator page of the website and enter your Area ZIP code or PIN code. All the branches in your region will be displayed to you with the address.
Use Map Applications
There are a number of map applications available for both Android and iOS users. Install any map application on your smartphone. And search the name of your bank in the search bar. The application will show you the details of the nearest branch with respect to your current GPS location.
Use Search Engines
No matter which internet search engine you are using. Just type in your bank's name and at the end add "Near Me". You will get the details of all the branches that are near your location. Search engines will show results with respect to your internet address.
Conclusion
These are the 5 ways to locate the nearest branch of your bank. If you have any kind of questions in your mind or another way to find the branch. Then you can comment down below.