An alternative bank account is an account in another bank. This is basically the second account you have to use if in case you are unable to use your primary bank account. This guide will explain everything you need to know about this account and also its importance.
For example, you have an account with ABC Bank which you regularly use. And you also have an account with XYZ Bank which you use very rarely. Then in this case the account you have with the XYZ Bank is known as the alternative bank account.
However, you should not maintain multiple accounts unnecessarily. There are many reasons why you should avoid multiple accounts. But then the alternative bank account is useful in two cases. Let me tell you when these accounts are useful for us.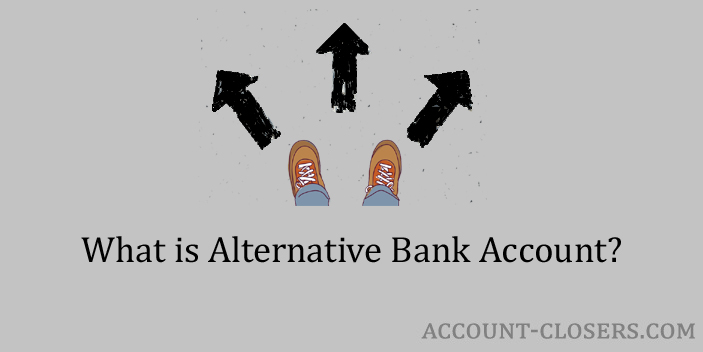 When is Alternative Bank Account Important and Useful?
I have mentioned two situations when this type of account is important and useful.
When you are unable to use your primary bank account.
And when you are closing your primary bank account.
I will explain both the situations to you in the further part of this guide.
Case 1: Primary Account is Unusable
There can be so many reasons why you are unable to use your primary bank account. Some of the most common reasons can be you have used your account to its maximum limit. And the bank will not allow you to carry any further transactions until the limit is reset.
Other than this the reason can also be like your primary bank is not able to complete your transactions because of a technical reason. Or you have a negative balance in your primary account. But then you have to carry out the urgent transaction. In such cases, you can always rely on your alternative bank account.
Case 2: Your Are Closing Your Primary Account
If you are not happy with your primary bank then you can always close the account you have with them. But here you should note that once the account closing process starts. You can not use your primary account in any way. So all your direct deposits, autopay transactions will be stopped.
To make sure that you are receiving your direct deposits like salary, you can update the details of your alternative bank account. And you can set up all your autopay transactions to take place from your other bank account. This will ensure that you don't face the situation of no bank account to carry out transactions.
Conclusion
Not everyone is required to maintain an alternative bank account. It totally depends on who you are and what are your banking habits. And it is also recommended that you maintain a maximum of 2 accounts in a country if you are an average bank user. This guide is written with the purpose just to educate you what is the meaning and the importance of an alternative account.