If you have a debit card of a closed bank account, then you will have to surrender it to the bank while closing the account. Or destroy it there is no way of using the card in any of the ATM machines or POS machines or Online.
When we open a bank account we get a lot of things from the bank that includes the documentation, cheque book, bank passbook, and debit card. But what to do with the debit card of a closed bank account?
That is what we will be learning today.
There are a few things you need to understand when you are closing a bank account. And the debit card that was linked with the account.
Will the Debit Card of a Closed Bank Account Work?
There is no chance that you will be able to use such a card ever in any ATM machine or POS machine or Online. So the straight answer to your question is no the card will not work.
Once the bank closes your account, the unused cheques if you have any can not be used. In the same way, the debit card of a closed account can never be used.
What Can You Do with Such a Debit Card?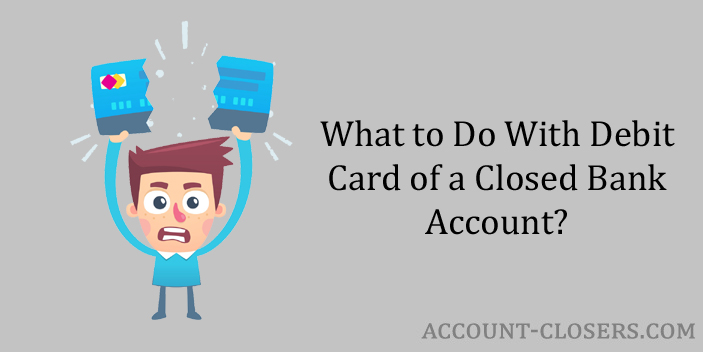 Here we can come across two scenarios let me explain both of them to you.
Scenario 1: The Bank Asks you to Surrender the Debit Card(s)
When you fill the account closure request form online or offline you might have come across the instructions. Which says you will have to surrender the debit cards that were issued to you.
In such a case, you will have to surrender your debit cards to the bank. It can be done on the day of closing the account. And in some special cases after closing down the account.
Scenario 2: The Bank Asks You to Destroy the Card and Dispose of it Safely
Sometimes the bank may ask you to destroy the card as it can never be used again and dispose of it safely. So what you do is cut your card in half and let it go with your home's garbage. Make sure you dispose of it responsibly.
Conclusion
This is what you can do with the debit card of the bank account that has been closed by you. Surrender it back to the bank or cut it in half and dispose of it. However, in the majority of the cases, you will have to surrender it to the bank.