The banking name is the name that is mentioned in the bank records. This is basically the legal name that you had given to the bank while the process of opening the account. All your debit cards, credit cards, passbook, cheques will be issued to you in your banking name only. In this guide, I will tell you how you can change your name in your Bank account.
The main question to answer is can you change your banking name?
Yes, you can change your banking name or the name that is mentioned in your bank account. But there is a process to follow and the requirements to fulfill. You should have a proper reason why you are doing it. At the same time, you also have to provide the certifying documents to the bank.
What are the Documents Required?
You will have to provide the updated government-issued IDs to the bank in all cases.
In case if you have simply changed your name to another then you will need to submit your updated government-issued ID.
And in case you have changed your name after marriage then you will need your marriage certificate.
In other cases, if you are changing the name in your account after a divorce, then you will need your divorce decree.
What is the Process to Change Name in Bank Account?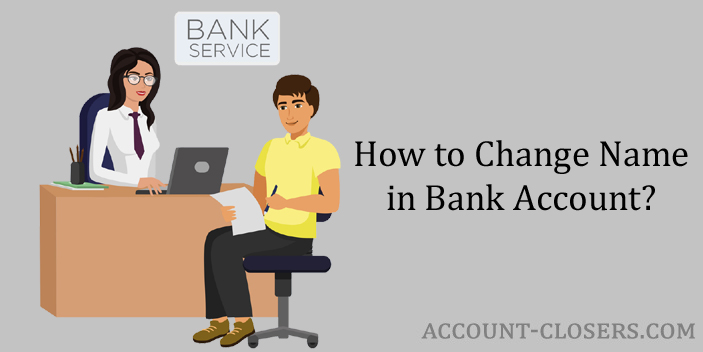 The first thing everyone asks me in this matter is can I change my name online? If even you have this question in your mind. Then let me answer this first no you can not change it online. You will have to follow the offline method for that. The complete instructions for you are given below.
Steps to Change Name in Bank Account:
Take your new name certifying proof document with you.
Get a copy of the document.
Locate the nearest branch of your bank.
Visit the branch of the bank.
Go to the helpdesk of the branch.
Speak with the bank officials.
Tell the bank officials that you want to change your name in the bank account.
The officials will provide you with the forms that are required to be filled.
Fill the forms provided to you, sign them, and submit them to the bank officials.
Conclusion
The process is so easy just collect your documents certifying your new name and contact your bank. In most cases, the banks do not charge their customers to make this change. But I recommend you to verify this before visiting the branch of the bank. You can it verified by contacting your bank's customer service.