You can close your bank account online only if your bank allows you to do so. This totally depends upon the protocols your bank follows when the customer wants to close the account. If your bank allows then you can use the online account closure form, secure messaging, and send an email.
In this guide, you will find online methods that you can follow to break up with your bank.
How Can I Know If My Bank Allows Me to Close the Account Online?
I have already made it clear that not all the banks allow the customers to do this.
Ok, now the next question in your mind is how can you check if your bank allows you or no?
It is very simple all you have to do is contact the customer care of your bank. Ask the customer care if the bank allows you to close the account online.
If the answer is Yes. Then congratulations! that is a good thing for you as there will be no requirement for you to personally visit the nearest branch of your bank.
But if the answer is No, then there is no chance of closing down the bank account online. You have to visit the branch of the bank to get this thing done.
Requirements You Should Fulfil to Close the Account Online:
There should be no pending dues in the account.
Your account should not have a negative balance.
Only the account holder can request the bank.
If you want to send an email, then it should be sent from the registered email address only.
Methods to Close Bank Account Online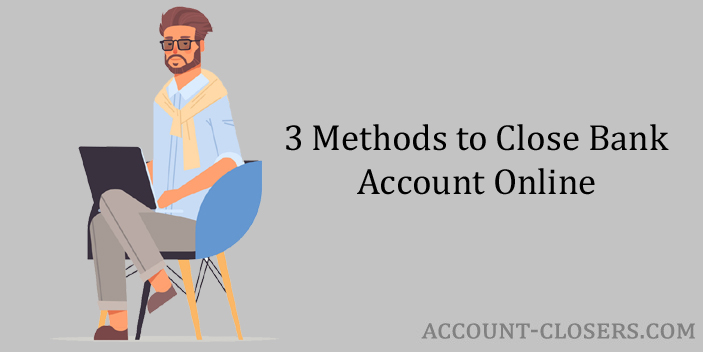 Here are the possible online methods you can follow. But again this is a universal guide. These methods might work in some countries and in others, these methods might not. But don't worry you can get this confirmed by calling customer care within 5 minutes.
Secure Messaging Using in Banking
Many banks allow their customers to chat with the support team using the secure messaging feature in online banking. Just visit the official website of your bank and login to your bank account. Open the support section of the online banking and select secure messaging or support chat.
Send a message to your bank explaining you want to close your account. The bank will respond to your message as soon as the support team reads it. Some banks in the United States of America and Canada allow their customers to use Secure Messaging to get their accounts closed.
Online Account Closure Form
If your bank has an online account closure form section on the official website. Then open the form, fill in your name and bank account number, select or enter your reason to close the bank account. The bank might ask you to enter some more details like your branch, etc.
Bank of Ireland and Bank of America are examples of the banks that allow their customers to fill and submit the bank account closure form online. In some banks, you might get the online account closure form after you log in to your banking account.
By Sending an Email
You can also send your request for closing down the account. First, confirm if your bank allows you to do this. If yes then just write an Email. Explain that you are willing to close down the account and can't come to the branch. The bank will take your closure request and will process it if there are no complications with your account.
Conclusion
If your bank says it does not allow you to close bank account online. Then you can follow the offline methods to do it. But before closing you should ensure you have an alternative bank account, your balance is Zero and you have stopped all the auto pays and direct deposits.