Suncorp Bank which is a subsidiary of Suncorp Group is a bank that has won the title of "Bank of the Year" by Money Magazine for 2018, 2019, 2020. If we consider these awards then this bank is one of the best banks in Australia. But things go wrong sometimes. And that is what made you think of closing the account with this bank.
This guide is for those people who hold a bank account with the Suncorp Bank and wish to close it. I have mentioned the complete steps that you need to follow to get your account closed. The procedure is very simple and clear to understand.
There are two methods by following which you can get your account closed. But you should have cleared all the dues and negative balance (if any) in your account. Because if you have anything due then you will not be allowed to close the account by the bank.

Before you close the account I highly recommend you open a new bank account with another bank. There are a lot of options for you like AMP Bank, CommBank, Bendigo Bank, National Australia Bank, ANZ Bank, and Bank of Queensland. Other than these also there are many to choose from.
After choosing the bank, open the account and on the day you are closing the account transfer all your funds from the old bank to your new account. But make sure you don't do it in advance. If you don't to it now then you will have to tell the bank how you want to receive your remaining funds.
Methods to Close Suncorp Bank Account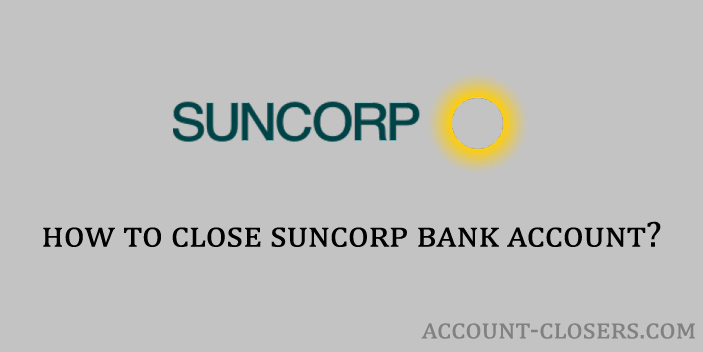 The two methods about which I was talking are mentioned below.
Calling Customer Care
Steps to Close Suncorp Bank Account by Calling Customer Care:
Call the Customer Care of Suncorp Bank on +61 7 3362 1712.
Talk to the support executive and tell them that you want to close the account.
They will ask you the reason why you are closing the account.
Tell them your reason.
Follow the instructions given to you by the support executive.
And your bank account will be closed if there are no complications.
Visting the Suncorp Store
Steps to Close Suncorp Bank Account by Visiting Suncorp Store:
Visit your nearest Suncorp Store.
Tell the officials that you want to close the bank account.
They will ensure you don't have any negative balance or dues.
If there are no dues or pending payments then your account will be closed by them.
Conclusion
While visiting the Suncorp Store you should make sure that you carry appropriate identity proof. The officials will ask you to show one. If you are facing any difficulties then you can talk with the customer care executives of the bank on the phone. They will surely help you out.