There are a lot of banks that are operating in Australia. And people have a lot of options to choose from. However, National Australia Bank or also called as NAB is one of the top 10 banks in Australia. But still, if you have decided to close National Australia Bank then this guide is for you.
I have mentioned the steps that you need to follow if you are willing to close down your bank account with NAB. The process is very simple and not too complicated. This goes easy if you don't have any complications with your bank account.
When I mention complications then I am talking about the dues or negative balance in your account. If you have any dues payable of a negative balance in your NAB Account. Then the bank will not allow you to close the bank account until you have cleared those dues.
But before you close your NAB Account I highly recommend you open a new account with another bank. You can choose between banks like AMP Bank, Bendigo Bank, or CommBank. Once you have opened a new bank account in Australia you should update the account details with your employer and other places from where you receive money.
You should update the details of your new bank account in every place from where you receive the payments. Because once you have closed the NAB account you won't be able to receive any funds or money to this account. And even if someone sends you money to your closed NAB account the payment will bounce.
About NAB

| | |
| --- | --- |
| Type of Bank | Public Bank |
| ISIN | AU000000NAB4 |
| Founded | 1982 |
| Headquarters | 700 Bourke Street Docklands, Melbourne, Australia |
| Area Served | Australia |
| Chairman (July 2020) | Philip Chronican |
| CEO (July 2020) | Ross McEwan |
| Revenue (2018) | A$ 19.101 billion |
| Net Income (2018) | A$ 5.554 billion |
| Total Assets (2018) | A$ 806.51 billion |
| Number of Employees (2016) | 35,063 |
| Official Website | www.nab.com.au |
Methods to Close NAB Account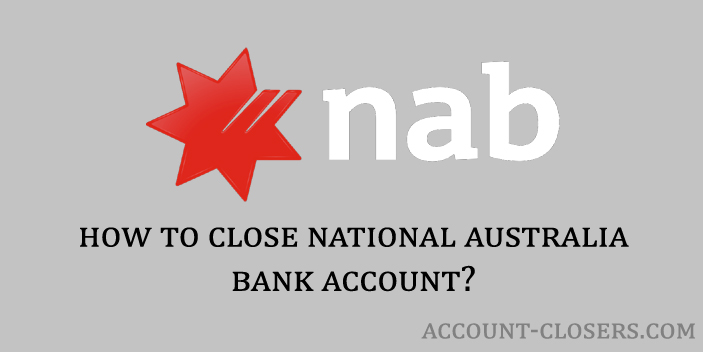 There are two methods that can be followed by you to close National Australia Bank account. And they are as mentioned below. But as I have already told you that you have to clear any of the negative balances or dues before you can close the account. Please do it and if you facing any difficulties then you can contact the bank.
Calling the Customer Care
Steps to Close NAB Account by Calling the Customer Care:
Call the bank on 13 22 65 or +61 3 8641 9886 from overseas between 8 am-7 pm Mon-Fri or 9 am-6 pm Sat-Sun. (AEST/ADST)
Get your call connected to speak with the support executive of NAB.
Tell them that you want to close your bank account.
The support executive may ask you a few questions to verify if you are the real owner of the account.
Answer those questions correctly.
Provide the reason why you are willing to close your account.
Your NAB account will be closed for you if there are no complications.
Visit Branch of NAB
Steps to Close NAB Account by Visiting Branch:
Visit the branch of NAB which is near to your location.
Go to the accounts section of the branch.
Tell the bank officials that you want to close your bank account.
They will ask you a few details of your bank account.
Follow the procedure told to you by the bank officials.
And your account will be closed by the bank.
If you have any balance remaining in your bank account then you can transfer that to another account you trust before closing the account. In case you have not done that then you have to tell the bank how you want to receive the remaining balance.
How to Contact NAB?
Before you use the information provided in this guide I highly recommended you verify the same with the bank. You can use the contact information provided below to reach the bank.
Contact Details of National Australia Bank:
Conclusion
This is how you can close National Australia Bank account by calling the customer care and visiting the branch. If you have any doubts in your mind or facing issues with the closing procedure then you can reach the bank with the help of the contact information provided above.