Do you have a bank account with the United Arab Bank and now you have decided to close it? If yes, then you can refer to this guide. There is no doubt that this bank is one of the best performing banks in the United Arab Emirates. But there can be so many reasons for the closure of the account. I will tell you the steps you need to follow to close United Arab Bank Account.
The steps are very simple, you just need to know what to do and what not to do while closing the account. If you are going back to your country from UAE. Then you will not need an alternative bank account in UAE. But if you are closing the account because you want to switch to another bank. Then first make sure you have an alternative bank account with you.
If you don't have one then find a good bank for you and open a new account with them. If you want assistance to choose a good bank. Then I have a set of questions you can ask the bank. Based on the answers you receive from your new bank. You will be able to decide if the bank you are just going to be a customer of is good for you or not. There are a few things you should take care of.
The first one is there should be no negative balance or dues pending in your account. If you have any then first you will have to clear those. Because without clearing the negative balance the bank will not allow you to close the account. The next thing is if you have set up any automatic payments in your United Arab Bank account. Then you have to cancel them all and set up the same from your alternative bank account.
About United Arab Bank

| | |
| --- | --- |
| Type | Joint Venture |
| Incorporation Date | 21 January 1975 |
| Headquarters | Sharjah, United Arab Emirates |
| Number of Branches | 10+ |
| Official Website | www.uab.ae |
Steps to Close United Arab Bank Account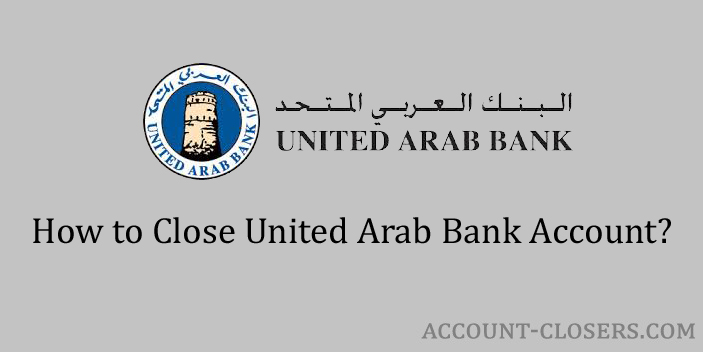 You can close the account only by following the offline method. I did not find any online method to close the account. If you are a joint account holder then refer to this linked guide. Because the process for closing a joint account is a bit different.
Steps to Close United Arab Bank Account:
How to Contact the Bank?
If you want to contact the bank, then you can do that by calling them on phone, using the official website, and also messaging on their official social media profiles. All the contact details have been mentioned below.
Contact Details of United Arab Bank:
Conclusion
This is how you can get your bank account closed. Never share your sensitive account details with anyone. And no one from the bank will ever contact you to ask for such details. To know more about the account closing charges I recommend you to reach the bank by using the contact information provided above.
References Used:
https://www.uab.ae/Discover-Us/History
https://www.uab.ae/Contact-Us