There are simply so many banks that are operating in the United States of America. And the Texas Capital Bank is one of them. The people of the country have many options with them when it comes to choosing a bank. But sometimes we the people come across circumstances where we need to close our bank accounts. In this guide, I will tell you how you can close Texas Capital Bank account.
The first thing I would like to tell you is closing down your account is not at all a tough job. But for that, you will need to know the exact steps to be followed and I am here to help you out. There are a few things which you should take care of. Like, your account should not have any dues pending or negative balance. If you have any then you will have to clear those.
There is no online method using which you can request the bank to close your account. And that is the reason why I have explained an offline method in this guide. Please should keep in mind that once the bank starts the process of closing down your account. You will not be able to use it in any way. So I recommend you make arrangements for your alternative account before closing down the existing one.
If you don't have an alternative bank account to use then choose any good bank and get the account opened with it. And in case you need assistance in choosing your new bank. Then refer to my list of 9 questions that you can ask your new bank. And based on the answers you receive from the bank you will be able to decide if you should open the account with it or no.
About Texas Capital Bank

| | |
| --- | --- |
| Type | Public |
| Founded | 1998 |
| Headquarters | Dallas, Texas, USA |
| Number of Employees | 1,600+ |
| Official Website | www.texascapitalbank.com |
Steps to Close Texas Capital Bank Account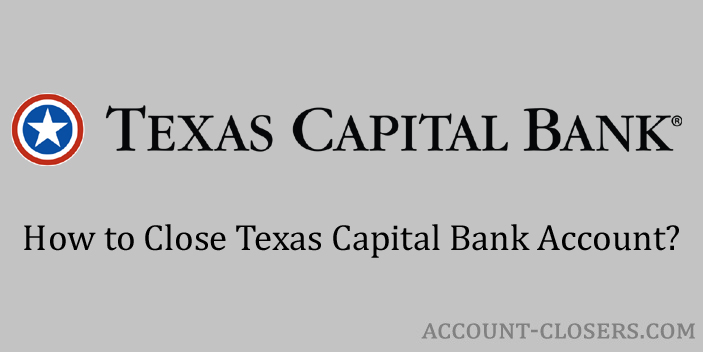 This guide is for those people who hold an individual account with the Texas Capital Bank. In case you hold a joint bank account then refer to this linked guide. There is no much difference in the process. The thing is just that all the account holders need to provide their consent to the bank in case of a joint bank account. The rest of the things will remain the same as the individual accounts.
Steps to Close Texas Capital Bank Account:
How to Contact the Bank?
For more details about closing down the account you have with the bank you can contact it using the information provided below. You can reach out to the bank using their official website and by calling the bank over the phone.
Contact Details of Texas Capital Bank:
Conclusion
In some cases, the bank might even charge for the closure of the account. It depends upon many factors. So to know exactly if you will be charged or no. I recommend you to contact the bank directly. You can use the contact information provided above for that purpose.
References Used:
https://en.wikipedia.org/wiki/Texas_Capital_Bank
https://www.texascapitalbank.com/contact-us