No matter what is the reason that made you think of closing down the account. You being the customer of the bank you always have the right to close it down. But there are few things you should take care of when you are doing it. This guide will help you out with the steps that you need to follow to close Synovus Bank account.
The first thing to start with is checking for pending dues and negative balance. In case you have any then you should take proper steps to clear all of those. Because the bank will not allow you to start the process of closing until you clear all the dues. This not the case only with Synovus Bank but all the banks follow this protocol.
Only the customer who owns the bank account has the right to close it. So you have to make sure that you are not sending anyone from your friends or family on your behalf. If you are really unable to reach the bank for some reasons. Then you can contact the bank and tell them about it so that they will take the request from your friends or family.
But before you close your existing account you have to make sure that you have an alternative bank account. Because once the bank starts the process of closing down your account. You can not use it for any kind of transaction. So to avoid such circumstances you should keep your alternative bank account ready.
If you already have an account with another bank then you are good to start the process. But in case if not then you should choose a good bank for you. And get your account opened with it. For assistance in choosing your new bank. You can read my list of 9 questions you should ask your new bank before opening the account.
About Synovus Bank

| | |
| --- | --- |
| Type | Public |
| Founded | 1888 |
| Headquarters | Columbus, Georgia, USA |
| Number of Employees | 4,000+ |
| Official Website | www.synovus.com |
Steps to Close Synovus Bank Account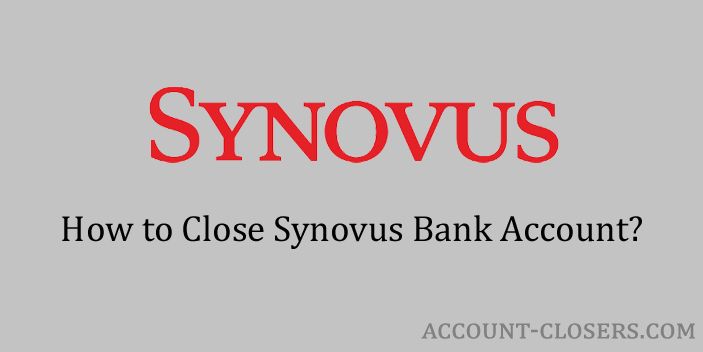 One more thing you should take care of is. You should cancel all your automatic payments and direct deposits from your Synovus Bank account. And set up the same from your alternative account. Because once the bank closes your account all these will start failing.
There is no online method that you can follow. The only available method which I found during my research was the offline one. This offline method works for all the banks that are operating in the United States. I wrote this guide for individual account holders. If you are a joint bank account holder then refer to this guide.
Steps to Close Synovus Bank Account:
Locate the nearest branch of Synovus Bank near you.
Take any of your identity proof documents with you.
Collect your passbook, unused cheques, and debit cards.
Visit the branch of the bank and go to the customer help desk.
Speak with the bank officials.
Tell the officials that you want to close your account.
The officials will ask for your name and bank account number.
Provide the asked information to the officials and bring down your account balance to zero.
Collect, fill, sign, and submit the account closure request form to the bank officials.
How to Contact the Bank?
You can reach the support team of the bank by calling them on their customer support phone number. And if you want to reach the team online you can use the official website or message the bank on its official social media profiles as well.
Contact Details of Synovus Bank:
Conclusion
Once the bank receives your request it will complete the process within 1 to 2 working days. No account can be instantly closed so please keep your patience and cooperate with the bank officials. Also, make sure that you don't share any of your sensitive account information with anyone.
References Used:
https://en.wikipedia.org/wiki/Synovus
https://www.synovus.com/about-us/
https://www.synovus.com/contact-us/