Banks are everywhere and no matter where you are you will need a bank account to manage your money. But what happens sometimes is we need to close down the account as well. There can be a number of reasons to do it. Usually, people think it will be a hard task to close the account. But it is not the case, you can do it very easily. In this guide, I will tell you how you can close Santander Bank account.
It is an easy task when you know the exact steps that you need to follow. And I am here to assist you with those. First of all, you have to make sure that you don't have any kind of dues pending or negative balance in the account. And in case you have any then you will first have to clear those. The bank will allow you to close the account only after you clear all the dues.
I usually recommend my readers to make arrangements for an alternative bank account before closing the existing one. And there are a number of reasons why I recommend so. But the major thing is once the bank starts the process of closing down the account. You won't be able to use your account to make any kind of transaction. And at the same time, alternative bank accounts also help in your transition from the old account to the new account.
There are so many banks that are operating in the United States of America. You can choose any bank that you feel is right for you. And open the account with them. But in case you are still undecided and need assistance in choosing the bank. Then you can read my article in which I have mentioned 9 questions you should ask your new bank. And based on the answers you receive you can make your decision.
About Santander Bank

| | |
| --- | --- |
| Type | Subsidiary |
| Founded | 1902 |
| Headquarters | Boston, Massachusetts, U.S. |
| Number of Employees (2017) | 9,800 |
| Official Website | www.santanderbank.com |
Steps to Close Santander Bank Account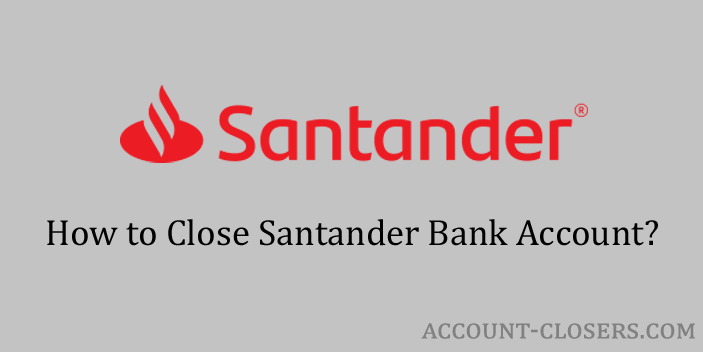 Before I wrote this guide I also read the resource available on the official website of the bank. In this guide, I have not mentioned any online method to close the account. Instead, I have mentioned an offline method that you can follow. Primarily this guide is written for those who hold an individual account with the bank. In case you hold a joint bank account then refer to this linked guide.
Steps to Close Santander Bank Account:
How to Contact the Bank?
If you want to contact the bank then you can use the information mentioned below. You can call the bank or message them on their official social media profile as well.
Contact Details of Santander Bank:
Conclusion
If you don't want to visit the branch of the bank to close your account. Then you can also call the customer service of the bank. Speak with the customer service representative. The representative will ask you a few account verification questions. Answer them correctly and request him or her to close your account. But the success rates on the call are very less. So I recommend you to visit the branch personally.
References Used:
https://www.santanderbank.com/us/personal/resources/checking-saving/checking-faqs
https://en.wikipedia.org/wiki/Santander_Bank
https://www.santanderbank.com/us/about/about-us
https://www.santanderbank.com/us/personal/contact-us