If you hold a bank account with RAKBANK and now you have decided to close it. Then this guide is made for you. This bank is one of the many banks operating in the United Arab Emirates. There are so many reasons why someone will decide to close the account. In this guide, you will find all the steps you need to follow to close RAKBANK account.
The major situation when people decide to close down the account in UAE is while moving back to their country. In most cases, it is the right decision to completely close the bank account before you leave the UAE. However, it totally depends upon you. If you are willing to return back to the country within a few days usually less than 60 days. Then you should rethink the decision you have made.
But in case you are switching to another bank in the country. Then make sure you have opened an alternative bank account. This will help for your smooth transition from your RAKBANK account to your new bank. In case you are confused about which bank to choose. Then I have a set of few questions you should ask your new bank. Based on the answers you receive from the bank. You can decide if you should open an account with them or no.
About RAKBANK

| | |
| --- | --- |
| Name of the Bank | National Bank of Ras Al-Khaimah PJSC |
| Type | Public Joint Stock Company |
| Founded | 1976 |
| Headquarters | Ras Al-Khaimah, United Arab Emirates |
| Area Served | United Arab Emirates |
| Official Website | rakbank.ae |
Steps to Close RAKBANK Account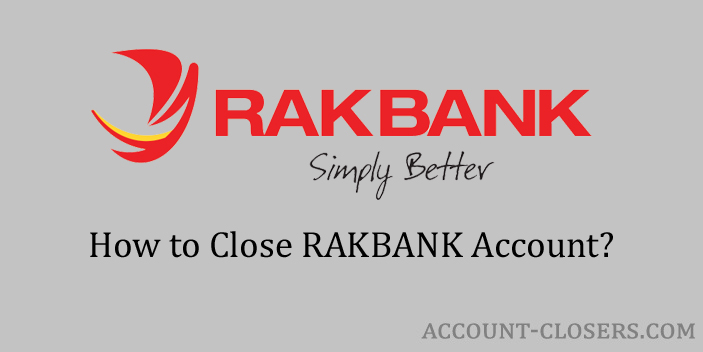 I have mentioned the steps below but there is no online method to close the account. There is an offline method whose steps are described below. And in case you want to close a joint bank account then refer to this guide. Before your account can be closed you will have to make sure your account balance is Zero. Make the balance zero on the day you are closing it.
Steps to Close RAKBANK Account:
How to Contact the Bank?
You can reach the RAKBANK by calling the bank, using their official website, and also by messaging on their official social media profiles.
Contact Details of RAKBANK:
Conclusion
This is how you can close your account. Please make sure that you never share any of your sensitive account information with anyone. And no one from the bank will ever call you to ask for such details. If you have any dues or negative balance in your account. Then you should clear them before you start the process of account closure. For details regarding the account closing charges (if any) you can contact the bank.
References Used:
https://rakbank.ae/wps/portal/retail-banking/about-us/rakbank-profile
https://rakbank.ae/wps/portal/header/contact-us
https://en.wikipedia.org/wiki/RAKBank