If you have a plan to open a new bank account but already have one with you. Then in case, you don't want to use the old one anymore. The best thing you can do is close it down. This guide is written for the people who hold an individual account with Pinnacle Bank and want to close it. All the steps that you need to follow to close Pinnacle Bank account are mentioned in this guide.
As I have mentioned that this guide is for individual account holders. In case you have a joint bank account. Then the steps will be a little different. The only difference is all the account holders need to provide their consent to the bank before it can be closed. I have published a dedicated guide for that purpose and you can read it by following the link provided.
Before you approach the bank to close the account you have to take care of a few things. The first thing is there should be no negative balance in your account. In case you have any dues pending then the bank will not allow you to start the process. You first have to clear all the dues and then you are free to approach the bank to close your account and start the process.
About Pinnacle Bank

| | |
| --- | --- |
| Founded | 1938 |
| Routing Number (Nebraska, Kansas, and Missouri) | 104913912 |
| Official Website | www.pinnbank.com |
Steps to Close Pinnacle Bank Account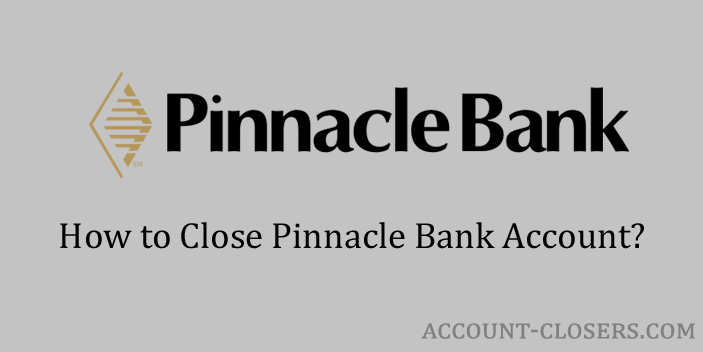 In order to close the account, there is no online method that you can follow. You will have to follow the offline method only. Even during my research about the same, I did not find any information on the official website as well. But don't worry I will help you out with the steps that will definitely work.
Steps to Close Pinnacle Bank Account:
How to Contact the Bank?
You can contact the bank by calling customer support over the phone and also by messaging the bank on its official social media profile.
Contact Details of Pinnacle Bank:
Conclusion
If you don't get the account closure request form at your branch. Then you can take a piece of paper and write a request letter to the head of the branch. That is also fine, but in most cases, you will be able to get the account closure request form. So that won't be an issue, and also keep in mind that the bank may charge you for the closure. It depends on your type of account, the time when you are closing, etc.
References Used:
https://www.pinnbank.com/company/about-us
https://www.pinnbank.com/contact