If you have an account with the People's United Bank and now you have decided to close it down. Then I am here today to help you out with the steps that you need to follow. The steps are very simple and you will be able to get things done easily. So let us learn how you can close People's United Bank account.
The first thing you have to keep in mind is the bank will not allow you to close the account if you have a negative balance. So if you have any kind of dues pending or negative balance accumulated in your account. Then you first have to clear all of those before approaching the bank.
Once the bank receives and approves your request the closing process starts. And once it is started you can not use the account for any kind of transaction. So you have to first make arrangements for an alternative bank account for yourself with any other bank.
If you already have an account with another bank then there is no need to open a new one. But in case you don't have any. Then choose a good bank for you and get the account opened. If you are confused about your next bank. Then read my guide which lists the questions you should ask the bank before opening the account.
Once you are ready with your alternative bank account. You have to move all your automatic payments and direct deposits to the alternative account. Because once the account is closed all your automatic payments and also direct deposits will start failing.
Steps to Close People's United Bank Account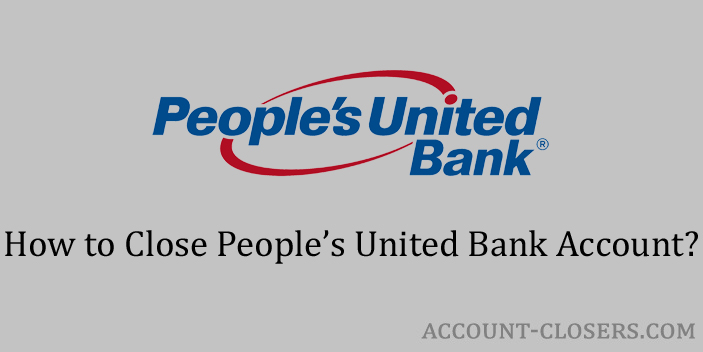 However, there is no way to close the account online. But if you can not reach the branch personally. Then you can send a written request to People's United Bank P.O. Box 27 Bridgeport, CT. The request which you send should be notarized. The steps mentioned below are of the offline method.
Steps to Close People's United Bank Account:
How to Contact the Bank?
If you wish to contact the bank then you can do it using the official website, by calling customer support. And also by messaging the support team of the bank on its official social media profile.
Contact Details of People's United Bank:
Conclusion
If you don't get the account closure request form at the branch. Then you can also submit a handwritten or typed closing request to the bank. Even that is accepted, what the bank needs is the physical presence of the customer in the branch and a written request from him or her.
References Used:
https://www.peoples.com/customer-support/online-banking-support#Online_General_Questions_How_do_I_close_my_account
https://www.peoples.com/customer-support