If we start looking into the reasons to close the bank account. Then we will just find too many of them. Each of the customers who have taken this decision will be having his or her own decision. Some may have a personal and some may have a professional. By referring to this guide you will find the steps that you need to follow to close Park National Bank account.
The process is very simple but there are a few things which should be taken care of by you. Let us pick up the negative balance and dues pending, to begin with. There should be no negative balance or dues pending in your account. If in case you have any then you should clear off all those. And then you can approach the bank and request it to close your account.
No bank will take your request until you clear all the dues pending in the account. The second thing is only the customer who owns the account has the right to close the account. And not anyone from his friends or family. In some cases, you are facing any unavoidable circumstance. Or the customer can not reach the bank, then you can contact the bank and make other arrangements for you.
Once you raise your request with the bank to close your account. You can not use it for any kind of transaction. So before you do that you have to make sure that you have an alternative account with you. It is just an account with another bank which you can use after closing the existing one with the Park National Bank. If you already have an account then that is fine.
But in case you don't have an alternative account. You should choose a good bank for you and open an account for yourself. There are so many banks operating in the United States of America. If you need help choosing your next bank. Then I have published an article containing a few questions you should ask your new bank. Just ask these questions and based on the answers you receive you will be able to decide.
About Park National Bank

| | |
| --- | --- |
| Type | Subsidiary |
| Founded | 1908 |
| Headquarters | Newark, Ohio, United States |
| Parent Organization | Park National Corporation |
| Official Website | parknationalbank.com |
Steps to Close Park National Bank Account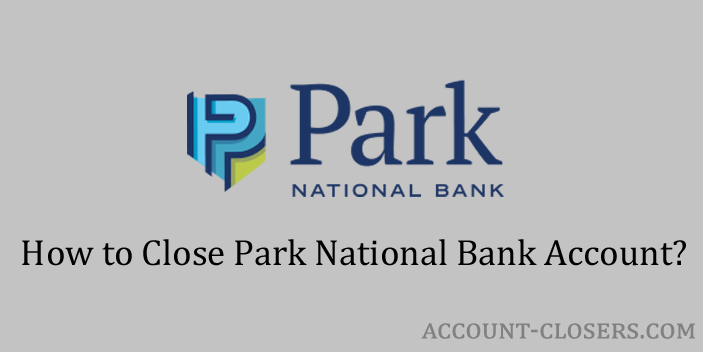 There is no online method that you can follow to get the bank account closed. Even on the official website of the bank, I did not find any such method. And that is the reason why I have mentioned an offline method in this guide. While writing this guide I kept my focus on the people who hold an individual account with the bank. In case you hold a joint bank account then refer to this linked guide for more.
Steps to Close Park National Bank Account:
How to Contact the Bank?
For more information, you can contact the bank by calling customer care. And also by messaging the support team of the bank on its official social media profiles.
Contact Details of Park National Bank:
Conclusion
This is how you can get your account closed by visiting the nearest branch. In some rare circumstances, the bank may also charge you account closing fees. This totally depends upon the type of account you hold and other factors. So I recommend you to directly reach the bank and ask them if there are any charges that you have to pay.
References Used:
https://en.wikipedia.org/wiki/Park_National_Bank_(Ohio)
https://parknationalbank.com/about/community/
https://parknationalbank.com/contact-us/