The United Arab Emirates is a place where probably everyone can get a job. And when you are working in any country around the globe you will need a bank account. There are so many banks that are operating in the UAE. And today we are going to talk about one such bank. This guide can be used by you to understand the steps you need to follow to close NBQ account.
NBQ which is the National Bank of Umm Al-Qaiwain is one of the best performing banks in the country. But sometimes we decide to close the account. And there can be 2 main reasons to close it. The first one is probably you are moving back to your country. And the second can be you want to switch to another bank. In that case, make sure you have your alternative bank account ready before closing the one with NBQ.
Here you also have to note that your account should not have any kind of dues or negative balance. In case you have any then the bank will not let you start the process of closing the account. You first have to clear all the dues or negative balance you have. Once everything is cleared you can start the process. If you don't know how you can clear it you can contact the bank, they will be able to help you out with it.
About National Bank of Umm Al-Qaiwain (NBQ)

| | |
| --- | --- |
| Type | Public |
| Date of Incorporation | 5 January 1982 |
| Begin Operations | 1 August 1982 |
| Area Served | United Arab Emirates |
| Headquarters | Umm Al Qaiwain, UAE |
| Official Website | nbq.ae |
Steps to Close NBQ Account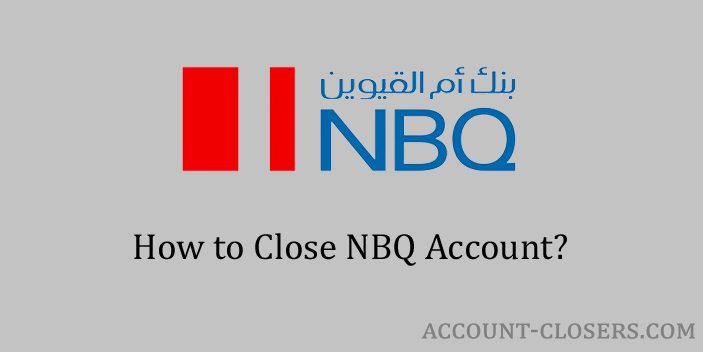 As of now when I am writing this guide there is no online method to close the account. When there is no online option there is always an offline one. In this guide, I have mentioned the offline instructions. And in case you want to close a joint bank account you can refer to the guide I have published earlier.
Steps to Close NBQ Account:
How to Contact the Bank?
You can reach out to the bank by calling them and also using their official website.
Contact Details of NBQ:
Phone Number: 600 56 56 56
Website: nbq.ae
Conclusion
This is how you can close your account, the officials at the branch will also ask you to show the identity proof document. This is to verify your identity as the account holder. The bank may or may not charge you for the closure of the account. For more details about the charges, you can contact the bank. And in case you need help in choosing your next bank, then you can refer to these 9 questions you can ask your new bank.
References Used:
https://nbq.ae/about-us/who-we-are—duplicate
https://nbq.ae/general/contact