Bank accounts are very helpful to store our hard-earned money safely and also use the money online and offline when needed. But sometimes we decide to close down the bank account. And there can be so many reasons why someone will close the account. In this guide, I will tell you the complete process you need to follow to close National Bank of Oman account.
This bank has a good presence in Oman and the United Arab Emirates. Once upon a time this bank also operated in Egypt. But the bank has stopped its operations in Egypt in the year 2014. I will tell you more about the bank in the further part of this guide. But before that let me tell you that closing down your bank account is not at all a hard task. You can do that very easily.
Just make sure that you don't have a negative balance in your account. Stop all the automatic payments and update your bank account number in all the places from where you receive direct deposits. Here you should keep in mind that the banks don't allow the customers to close the account if there are any dues pending or negative balance in the account. So in case if you have it in your account then you will have to clear it.
Consider having an alternative bank account before you close the existing one with the National Bank of Oman. If you are planning to switch to another bank then first open the account with that bank. And then start the process to close the existing one. But this time choose the right bank for you. You can refer to this linked guide where I have mentioned a few questions you can ask your new bank. Before switching to that bank.
About National Bank of Oman

| | |
| --- | --- |
| Founded | 1973 |
| Headquarters | Muscat, Oman |
| Area of Operations | Oman and the United Arab Emirates |
| Number of Branches | 59+ |
| Number of ATMs | 170+ |
| Number of International Locations | 2 (Dubai and Abu Dhabi) |
| Official Website | www.nbo.om |
Steps to Close National Bank of Oman Account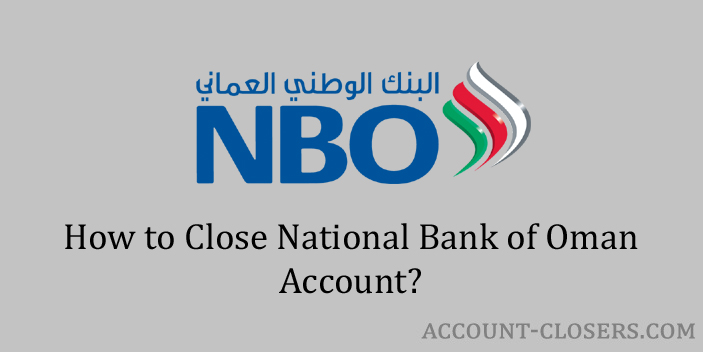 The customers are allowed to close the account offline only. There is no online method to follow. So the instructions for the offline method are given below. And in the case of a joint bank account refer to this guide.
Steps to Close National Bank of Oman Account:
How to Contact the Bank?
I have mentioned the contact information of the National Bank of Oman below. You can reach them on their official website, on a phone call, and also on their official social media profiles.
Contact Details of National Bank of Oman:
Conclusion
Before you close your bank account you will have to make your bank account balance zero. But it is not recommended to do it well in advance. Bring down the balance to zero only on the day of closing the account. For more information and to know if there are any account closing charges. I recommend you to contact the bank.
References Used:
https://www.nbo.om/en/Pages/Personal-Banking/Support/Call-Centre-and-IVR.aspx
https://en.wikipedia.org/wiki/National_Bank_of_Oman