Mashreq Bank is one of the many banks operating in the United Arab Emirates. This bank not only operates in the UAE, but also in a few locations in Europe, the United States of America, Asia, and Africa. Today's guide will tell you about the steps you need to follow to close Mashreq Bank account.
Being the account holder you have all the rights to close the bank account. But you have to make sure that you are not violating any terms and conditions of the bank. Some banks charge you account closing fees if you are closing the account before 1 year of opening it.
Such terms and conditions of the bank should be kept in mind. Other than that you should ensure there is no negative balance in your account. If any then you will have to clear it before starting the process to close the account. That is because the bank will not allow you to close it without clearing the dues and negative balance.
After that, if you are planning to switch to another bank then you should first make arrangements for your alternative bank account. Open the account with your new bank before closing the existing one. This will help you out with the transition from your old account to the new account.
But this time I suggest you choose the bank that is right for you. If you are unsure about it. Then you can ask these 9 questions to your new bank. And based on the answers you get from the bank you can decide if you should open the account with them or no.
About Mashreq Bank

| | |
| --- | --- |
| Type of Bank | Public |
| Founded | 1986 |
| Headquarters | Dubai |
| Number of Domestic Locations (2013) | 45 |
| Number of International Locations (2013) | 20 |
| Revenue (2015) | $2.21 billion |
| Number of Employees | 4,000 |
| Official Website | www.mashreqbank.com |
Steps to Close Mashreq Bank Account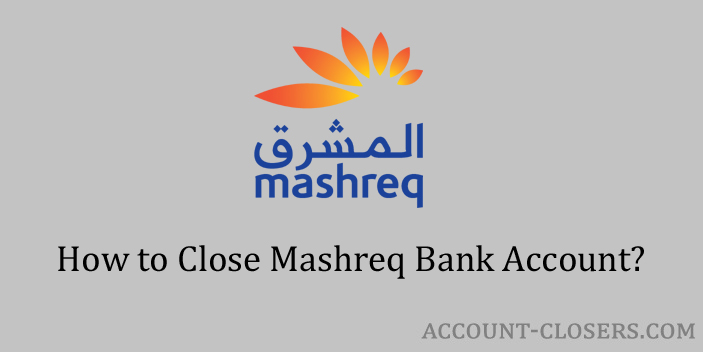 Mashreq Bank does not allow its customers to close the bank account online. But you can do it by following an offline method. The instructions for the offline method are given below.
Steps to Close Mashreq Bank Account:
How to Contact the Bank?
You can reach the bank on their official social media profiles, on-call, and also on their official website. All the contact information has been given below.
Contact Details of Mashreq Bank:
Conclusion
If you have any doubts in your mind then you can contact the bank using the information provided above. On the day of closing the account, you have to make the account balance zero. If you hold a joint bank account then you can refer to this guide.
References Used:
https://www.mashreqbank.com/en/uae/personal
https://en.wikipedia.org/wiki/Mashreq_(bank)