There are so many banks that are operating in the United States of America. If you don't like one bank and its service then you always have the freedom to close the account and switch to another bank. In this guide of mine, I will tell you the complete steps that you need to follow to close IBC Bank account.
The process remains very simple but you can not close the account online. Only available way to close it is the offline method. And this method requires the account holder himself or herself to visit the branch of the bank. Before you close down your existing account make sure you have an alternative bank account with you.
In case you don't have then choose a good bank for you and get it opened. If you need help in choosing your next bank. Then I have a list of questions you should ask the bank before opening the account. Based on the answers you receive you will be able to decide if the bank is a good choice for you or not.
Other than the alternative bank account there are two more major things you should take care of. The first one is there should be no negative balance in your account. And the second one is you should cancel all your automatic payments and direct deposits set them up with your alternative bank account.
Steps to Close IBC Bank Account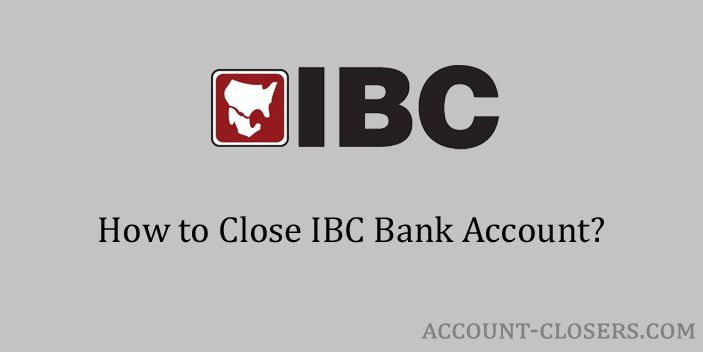 If you hold an individual account with the bank then follow the steps mentioned below. And in case if you hold a joint bank account then refer to this linked guide.
Steps to Close IBC Bank Account:
How to Contact the Bank?
For more information you can contact the bank using the official website of the bank, calling customer care. And also by messaging the support team on the bank's official social media profiles.
Contact Details:
Official Website: www.ibc.com
Laredo Phone Number: (956) 722-7611
 Zapata Phone Number: (956) 765-8361
Eagle Pass Phone Number: (830) 773-2313
San Antonio Phone Number: (210) 518-2500
Houstan Phone Number: (713) 526-1211
Prot Lavaca Phone Number: (361) 552-9771
Austin Phone Number: (512) 397-4506
Brownsville Phone Number: (956) 547-1000
Corpus Christi Phone Number: (361) 888-4000
McAllen Phone Number: (956) 686-0263
Oklahoma Phone Number: (405) 841-2100
Facebook: www.facebook.com/IBCBankWeDoMore
Conclusion
If you are not in the position to visit the branch personally. Then reach out to the bank's support team, they will help you out to make sure other arrangements for you. And also keep in mind that if you are closing the account too early after opening it. Then the bank may ask you to pay the account closing charges.
References Used:
https://www.ibc.com/contact-us