Having a bank account is very important. And when we are talking about the banking industry and the banks operating in the United States of America. There are a huge number of banks. And when there are more banks in the industry it gives rise to competition. When there is more competition the ultimate winner is the customer. So if you don't like your bank or its service then you can switch to another bank. In this guide, I will tell you how you can close Frost Bank account.
It is quite an easy task to get your account closed. But I would recommend you to choose your next bank and make arrangements for your alternative bank account before closing the one you have with Frost Bank. If you have already selected your next bank then go ahead and open the account with it. But in case you are undecided then you should read my list of 9 questions you should ask your new bank before opening the account. Based on the answers you receive from the bank you will be able to take your decision.
If you have any balance in your account then you will have to make the account balance zero. But you should do it on the day you are closing the account. Do not make it zero well in advance as it is not considered a good practice. And in case you have any dues pending or negative balance in your Frost Bank account. Then you will have to clear all of those. And only then the bank will allow you to start the account closing process. Check your balance and if negative then you have to take steps to make it zero.
About Frost Bank

| | |
| --- | --- |
| Type | Public |
| Founded | 1868 |
| Headquarters | San Antonio, Texas |
| Number of Locations | 130+ |
| Number of Automated Teller Machines | 1,300 |
| Number of Employees (2017) | 4,270 |
| Official Website | www.frostbank.com |
Steps to Close Frost Bank Account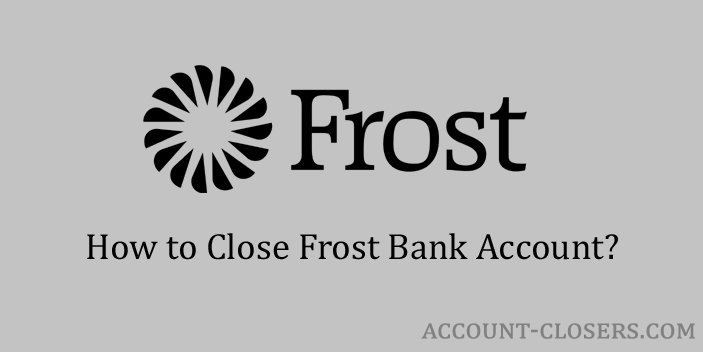 This guide can be used by the people who hold an individual account with the Frost Bank. But in case you have a joint bank account then refer to this guide. I did not find any online methods to close the account. So I have explained an offline method below. In this method, the account holder himself or herself has to visit the branch of the bank. I do not recommend sending anyone from your friends or family on your behalf to the bank.
Steps to Close Frost Bank Account:
How to Contact the Bank?
You can contact the bank on their official website, by calling them, and also by messaging them on their official social media profile. I have provided the contact details below.
Contact Details of Frost Bank:
Conclusion
If you have everything clear about your account and there is no negative balance or dues. Then you will be able to close the account very easily. Just give the branch a visit and the things will go smoothly. But keep in mind that you should not share any sensitive account information with anyone. And once the bank starts the account closing process you will not be able to use the account in any way.
References Used:
https://en.wikipedia.org/wiki/Frost_Bank
https://www.frostbank.com/about-us
https://www.frostbank.com/support-contact