There are so many banks that are based in the United States of America. If you don't like to continue your relationship with your bank. Then you can close your existing bank account and switch to another bank. But there is a small problem with the people. And that is they don't know how they can close it. So this is why I am writing this guide which will help you to close Flagstar Bank account.
I have explained all the steps that you need to follow in this guide. Let us start with some preliminary things of which you should take care of. The first thing is there should be no negative balance in your account. If in case you have any then you will have to take proper steps to clear all those dues. And then the bank, be it the Flagstar Bank or any other bank operating globally will allow you to close the account you have with it.
The next thing is to make sure you have an alternative account that can be used by you once this account is closed. Choose any bank and get your new account opened if you don't have an alternative bank account. This will help you out in a smooth transition from your old account to a new account. If you need help in choosing your next bank then read my list of 9 questions you should ask your new bank before opening the account.
About Flagstar Bank

| | |
| --- | --- |
| Type | Public |
| Founded | 1993 |
| Headquarters | Troy, Michigan, United States |
| Number of Employees (2018) | 3,900+ |
| Official Website | www.flagstar.com |
Steps to Close Flagstar Bank Account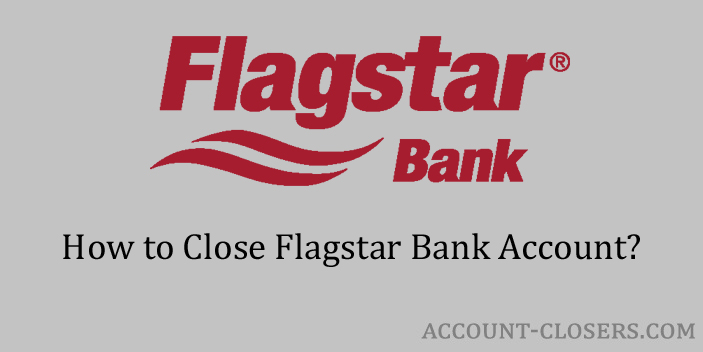 I did not find any online method to close Flagstar Bank account. And that is the reason why I have mentioned an offline method below. Follow the instructions given below to get your account closed.
Steps to Close Flagstar Bank Account:
How to Contact the Bank?
You can contact the bank using the official website of the bank, calling them, and by messaging on their official social media profile. I have provided the contact details below.
Contact Details of Flagstar Bank:
Conclusion
This is how you can close your Flagstar Bank account by visiting the nearest branch of the bank. Also, keep in mind that the bank may or may not charge you for the closure. So to get the most accurate information about the same I recommend you to contact the bank directly. You can use the contact information provided above. And if you want to close a joint bank account then refer to this guide.
References Used:
https://en.wikipedia.org/wiki/Flagstar_Bank
https://www.flagstar.com/customer-support.html#contact-us