Banks are these days an integral part of our lives. Because most of us whatever money we earn we deposit it in our bank accounts. But sometimes we make the decision to switch to another bank or close our existing account. Then there comes a problem. And that is we usually don't know how to close the account. Even if you don't know then don't worry. Because in this guide I will tell you how you can close First Hawaiian Bank account.
The steps that you need to follow are extremely simple. Just make sure that you don't have any negative balance in your account. Because, if you have any kind of dues pending or negative balance in your account. Then the bank will not allow you to close the account until you clear all the dues. So if you have any dues pending then pay all those before you approach the bank to get your account closed.
About Hawaiian Bank

| | |
| --- | --- |
| Type | Public |
| Founded | 1858 |
| Headquarters | Hawaii, U.S. |
| Number of Employees (2020) | 2,000+ |
| Official Website | www.fhb.com |
Steps to Close First Hawaiian Bank Account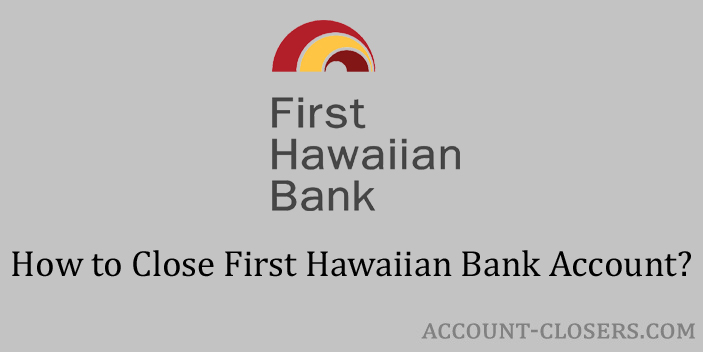 I did not find any online method to close your bank account when I was doing my research before writing this guide. And that is the reason why I have explained an offline method below. This method can be followed by those people who hold an individual account with the First Hawaiian Bank. In case you have a joint bank account, then the steps are a little different. So refer to the linked guide if you are a joint account holder.
Steps to Close First Hawaiian Bank Account:
How to Contact the Bank?
If you need more information then you can contact the bank on a phone call, and also by messaging the bank on its official social media profile. The contact information provided below is taken from the official website of the bank.
Contact Details of First Hawaiian Bank:
Conclusion
This is how simple it is to get your account closed. But please keep in mind that once the bank starts the process of closing down your account. You will not be able to use it in any way. So make sure you have an alternative bank account with you. In case you don't have then get a new account. Choose any bank that is operating in the USA, and get your account with it. For assistance in choosing your next bank, refer to my list of questions you should ask your new bank here.
References Used:
https://en.wikipedia.org/wiki/First_Hawaiian_Bank
https://www.fhb.com/en/customer-service/faq-general/how-do-i-close-my-account/
https://www.fhb.com/en/customer-service/