There are so many banks that are operating in the United Arab Emirates. That provides banking services for both UAE Nationals. And also the people who have come for employment purposes. But sometimes we come across circumstances in which we have to close the bank account. And this guide will help you to close Emirates Islamic Bank account.
The process is very simple. But let me tell you that there is no online method to close the account. There is only an offline method in which the account holder has to visit the branch. In the case of a joint bank account, the consent of all the holders will be needed to close the account.
So the first thing you have to do is ensure that there are no dues or negative balance in your account. If any then take steps to clear those dues. Because the bank will not let you close the account until you clear the dues. And in case you want to switch to another bank.
Then make sure you have opened the new account or an alternative bank account already. If you want help to choose your another bank. Then refer to these questions that you can ask your new bank. If you are going back to your country from the UAE or already have an account in another bank. Then there is no need to open a new one.
About Emirates Islamic Bank (EIB)

| | |
| --- | --- |
| Traded as | EIB |
| Founded | 2004 |
| Headquarters | Dubai, United Arab Emirates |
| Official Website | www.emiratesislamic.ae |
Steps to Close Emirates Islamic Bank Account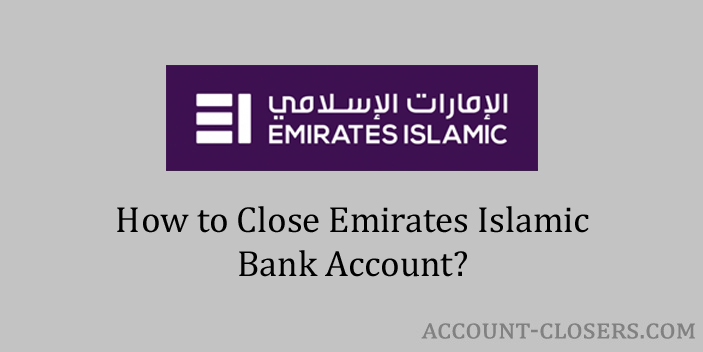 I have already mentioned that there is an offline method to close the account. So you have to personally fill an account closure request form. You can get this form at any branch of the bank or you can download it from the official website of the bank.
Steps to Close Emirates Islamic Bank Account:
How to Contact the Bank?
You can call the customer care of the bank, use their official website, and also message them on their official social media profiles.
Contact Details of Emirates Islamic Bank:
Conclusion
Do not make the account balance zero well in advance. Do it only on the day you are going to the bank to close the account. And if you are closing the account before 12 months of opening then the bank may charge you some fees. I recommend you to contact the bank for more information about it.
References Used:
https://www.emiratesislamic.ae/eng/contact-us/
https://en.wikipedia.org/wiki/Emirates_Islamic
https://www.emiratesislamic.ae/assets/cms/docs/EIB/EI_Account_Closure_Request_Form.pdf