Banks are everywhere these days that is because the solution that they provide to the customers is very important. I am talking about the bank accounts where people store all their earnings safely. But sometimes people like you and me even take the decision to close down the account. And for this, there can a number of reasons. Some will be having their own personal reason whereas some will have their own professional reason. In this guide, I will tell you how you can close Bank of the West Account.
Before you approach the bank and ask it to close your account. You should ensure that there is no negative balance or dues pending in your account. If you have any then you first have to clear all of those. Because, Bank of the West, or any bank that is operating in the United States of America. Do not allow their customers to close an account that has a negative balance or dues pending in it. If you don't know the cause of the negative balance or dues in the account. You can contact the bank and ask the bank officials about it.
And they will let you know the exact reason why your account has a negative balance or dues pending. You should keep in mind that only you (account holder) is allowed to close down the account. So I recommend you personally visit the branch of the bank and get the account closed. Here what I mean is you should not send someone from your friends and family on your behalf to close the account. If it is really not possible for you to visit the branch then you can first contact your branch and let them know about it.
About Bank of the West

| | |
| --- | --- |
| Type | Subsidiary |
| Founded | 1874 |
| Headquarters | San Fransisco |
| Number of Employees (2020) | 9,000 |
| Parent | BNP Paribas |
| Official Website | www.bankofthewest.com |
Steps to Close Bank of the West Account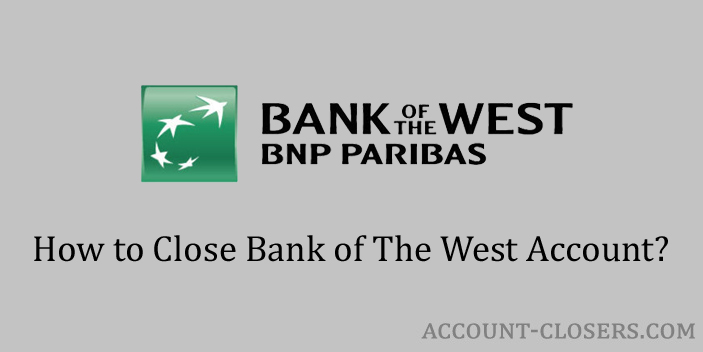 Before you close your account make sure you have an alternative bank account for you to use. If you don't have then choose a good bank for you and get an account opened. If you need help in choosing your new bank then refer to these questions you should ask your new bank. And when it comes to closing down the Bank of the West account. There is no online method so you will have to follow the offline method mentioned below. The instructions given below are for individual account holders. If you have a joint account then refer to this guide.
Steps to Close Bank of the West Account:
How to Contact the Bank?
You can reach the bank by calling them and also by messaging them on their official social media profile. The contact details that I have mentioned below are taken from the official website of the bank.
Contact Details of Bank of the West:
Conclusion
If you are facing any difficulties or need instant assistance then you can call the customer care service of the bank. But keep in mind that you should not share any of your account's sensitive information with anyone. And once the bank starts the process of closing down your account. You will not be able to use it for any kind of transaction.
References Used:
https://en.wikipedia.org/wiki/Bank_of_the_West
https://www.bankofthewest.com/customer-service.html