Ajman Bank is one of the best banks you can consider to open a bank account with in the United Arab Emirates. But for some reason, if you have decided to close down your account with this bank. Then this guide will help you to do it. In this guide, I have explained to you all the steps you need to follow to close Ajman Bank account.
The process is not that complicated but there are a few things which you should take note of. Like if you are closing the account before 1 year of opening. Then the bank will charge you some closing fees. So let us begin with the things you should now prepare.
The first thing is you should make are that there are no dues or negative balance in your account. If you have any then you should first clear those. And then the bank will allow you to start the process to close your account. In case you are switching to another bank account.
Then that account will be considered as your alternative bank account. So first get your new account and then you can start with the process of closing the account you have with the Ajman Bank. If you want help in choosing the new bank for you then you can refer to this guide and ask the 9 questions to your new bank.
Those questions will help you to decide if you should open your new account with the bank. But if you are moving out of the United Arab Emirates to your country after closing the account. Then there is no need of opening a new bank account with any bank.
About Ajman Bank

| | |
| --- | --- |
| Established | 2007 |
| Begin Operations | 2009 |
| Headquarters | Ajman, United Arab Emirates |
| Official Website | www.ajmanbank.ae |
Steps to Close Ajman Bank Account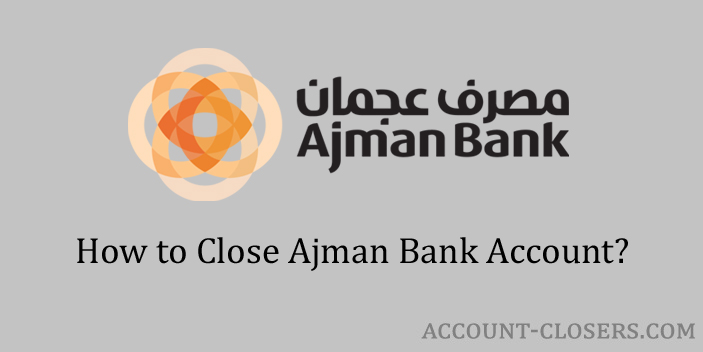 There are no online methods to close down the account, there is only an offline method to do it. I have explained the offline method. If are a joint account holder then you should refer to this linked guide.
Steps to Close Ajman Bank Account:
Locate the nearest branch of Ajman Bank near to you.
Collect your unused cheques, debit cards, and an identification proof document with you.
Visit the branch of the bank.
Go to the customer support desk at the branch.
Tell the bank officials that you want to close your account.
Provide your name and the bank account number to the bank officials.
The bank officials will handover an account closure request form to you.
Fill the account closure request form, sign it, and submit it to the bank officials.
The officials will check if there are any issues with your account. If there are no issues your account closing request will be taken.
How to Contact the Bank?
You can reach the bank on their official website and by calling the bank. I did not find any official social media profiles of the bank.
Contact Details of Ajman Bank:
Conclusion
For more information I recommend you to contact the bank. All the required contact information is provided above. Also, ensure you make your account balance zero before starting the account closing process. But you should do it only on the day you are closing the account. Doing it well in advance might attract charges for non-maintenance of sufficient balance.
References Used:
https://www.ajmanbank.ae/site/company-profile.html