There are a lot of reasons why someone will take the decision to close the account. Let us not get into counting those in this guide. This guide is written to help you with the steps that you need to follow to close Woodforest National Bank account. The process is very simple but the problem is people find it difficult.
But don't worry I will guide you through all the steps in a very simple manner. The first thing I want to tell you is this guide is written for the people who hold an individual account with the bank. So in case if you have a joint bank account. Then there is a separate guide I have published and is been linked here, please refer to that.
Before you approach the bank and request for closure you have to take care of a few things. Let us start with the pending dues and negative balance. This thing generally remains true for all the banks. That is if you have any pending dues or negative balance. Then the bank will not allow you to close it until you clear the dues.
So in case if you have any then you have to take proper steps to clear all of the dues. Other than this you have to make arrangements for your alternative bank account before closing the existing one. If you already have another account then there is no need of opening the new one.
But in case you don't have then choose a bank and get the account opened. There are so many banks that are operating in the United States. But if you are in confusion about your next bank. Then read these questions you should ask your new bank before opening the account.
About Woodforest National Bank

| | |
| --- | --- |
| Type | Private |
| Founded | 1980 |
| Headquarters | The Woodlands, Texas, USA |
| Number of Employees | 4,000+ |
| Official Website | www.woodforest.com |
Steps to Close Woodforest National Bank Account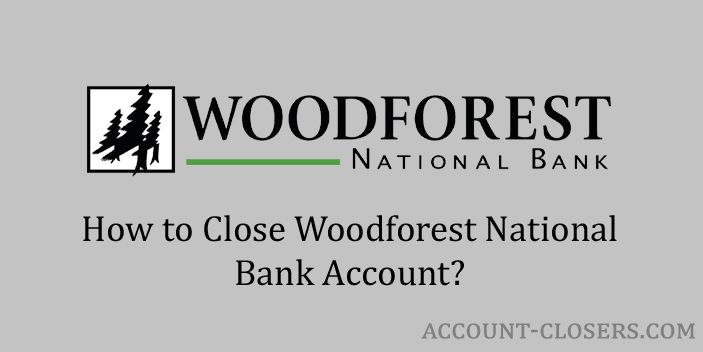 During my research for this article, I did not find any online method to close the account on the official website of the bank. And that is the reason why I have explained an offline method below.
Steps to Close Woodforest National Bank Account:
Locate the nearest branch of Woodforest National Bank near you.
Take your passbook, unused cheques, debit cards, and any identity proof document with you.
Visit the branch of the bank.
Find the helpdesk at the branch and speak with the bank officials.
Tell the officials that you have decided to close your bank account.
Provide your name and account number to the officials so that they can find your account.
Check your bank account balance and bring it down to zero.
Collect an account closure request form.
Fill, sign, and submit the closure request form to the bank officials.
How to Contact the Bank?
For more information, you can contact the bank by calling customer care, and also request live chat on the banks official website.
Contact Details of Woodforest National Bank:
Conclusion
In some cases, the bank may charge you for the closure. The charges depend upon the type of account you hold, the time of your closure, etc. So the best thing you can do is get in touch with the support team of the bank to know exactly. (if you have to pay anything)
References Used:
https://en.wikipedia.org/wiki/Woodforest_National_Bank
https://www.woodforest.com/About-Us
https://www.woodforest.com/About-Us/Contact-Us