If I was closing my bank account and at that time someone asks me why you took this decision? Then I would have my own reason to close it. And just like me whoever it may if he or she has decided to close the account. Then he or she will be having their own reason. In this guide of mine, I will tell you how you can close your Valley Bank account.
So first of all check your balance if you have a positive balance (more than zero) then you will have to bring to down to Zero. But I recommend you to do it on the day you are closing your account. But in case you have any dues or negative balance in your account.
Then first you will have to clear all those dues pending to the bank. And then Valley Bank will allow you to start the process of closing the account you have with them. If you don't know how you can clear your dues then you can contact the bank and ask for help regarding it.
Before you close down your account, you should make sure you have an alternative bank account to use. If you don't have one then I recommend you to open a new one with the bank which you feel is right for you. In case you are still not decided about the bank.
Then there are many banks that are operating in the United States. What you can do is you can refer to my list of questions to ask your new bank. These are some 9 questions just ask your new bank. And based on the answers you receive from the bank you will be able to decide if you should open an account with them or no.
About Valley Bank

| | |
| --- | --- |
| Type | Public |
| Founded | 1927 |
| Headquarters | Valley Road, Wayne, New Jersey, U.S. |
| Area Served | New Jersey, New York, Pennsylvania, Florida, Alabama |
| Number of Employees (2017) | 2,800+ |
| Official Website | www.valley.com |
Steps to Close Valley Bank Account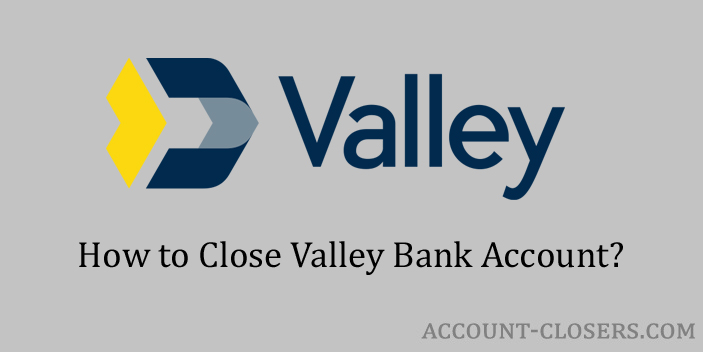 There is no online method to close the account. So I have mentioned an offline method below. If you have an individual account with the bank then refer to this guide. In case you have a joint bank account then refer to this linked guide.
Steps to Close Valley Bank Account:
Locate the nearest branch of Valley Bank near you.
Take your passbook, unused cheques, debit cards, and an identity proof document with you.
Visit the branch of the bank.
Go to the helpdesk and speak with the bank officials.
Tell the bank officials that you want to close down your account.
The officials will ask you for your name, and account number.
Provide the details to the officials.
Collect an account closure request form from the officials.
Fill the form with all the required details, sign it, and submit it to the officials.
How to Contact the Bank?
You can reach the bank on their official website, by calling them, and also on their official social media profiles. I have mentioned the contact details below.
Contact Details of Valley Bank:
Conclusion
You can also call the customer care of the bank and request the support executive to close the account. The executive will ask you a few account verification questions. Answer them correctly and you will be able to raise a closing request. But the success rate is very less and that is why I recommend you to visit the branch of the bank.
References Used:
https://en.wikipedia.org/wiki/Valley_Bank
https://www.valley.com/why-valley/company-information/why-valley
https://www.valley.com/faqs
https://www.valley.com/customer-service