If you have a bank account with Popular Bank and now you have decided to close the same. Then this guide is tailored for you. Because in this guide I have mentioned the steps that you need to follow to close Popular Bank account. The steps are very simple, and you will be able to close it pretty soon.
To start with you have to make sure that you have no dues pending or negative balance in your account. In case you have any then you will have to first clear all of those. And then start the process of closing down the account. This is because the bank will not allow you to start the process if you have dues pending.
The next thing is you should ensure you have an alternative bank account to use. This is important because once the bank takes your request and starts the closing process. You will not be able to use your account in any way for any transactions.
So to make sure you don't lose access to the banking system make sure you have an alternative bank account. If you already have an account with any other bank then it is good. But if you don't have then choose a good bank for yourself and get the account opened with that bank.
Since there are a number of banks that are operating in the United States of America. It is really a tough job to choose the right bank for you. So to help you out with this problem I have published an article. In that article, I have mentioned a few questions. That you should ask your new bank before opening an account with them.
About Popular Bank

| | |
| --- | --- |
| Type | Public |
| Founded | 1893 |
| Headquarters | Virgin Islands, United States |
| Number of Employees (2017) | 7,800+ |
| Official Website | www.popularbank.com |
Steps to Close Popular Bank Account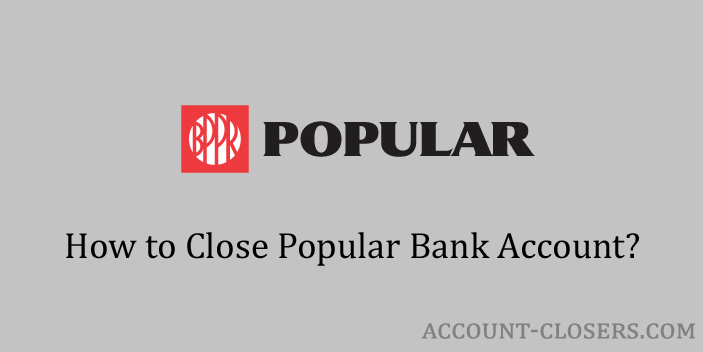 There is no online method that you can follow to close down your Popular Bank account. And that is the reason why I have mentioned the offline method below. This method can be followed by the people who hold an individual account with the bank. In case you hold a joint bank account, then refer to this guide.
Steps to Close Popular Bank Account:
How to Contact the Bank?
You can contact the bank by calling the bank on their customer care phone number. And also by messaging on their official social media profile. All the contact information that is mentioned below is taken from the official website of the Popular Bank.
Contact Details of Popular Bank:
Conclusion
Closing the bank account is this easy. But make sure you personally visit the branch of the bank and not send anybody else there. However, you can also call the customer care of the bank and raise your request to close the account. But the success rate is very less. So I suggest you follow the method I have explained above.
References Used:
https://en.wikipedia.org/wiki/Popular,_Inc.
https://www.popularbank.com/about-us/
https://www.popularbank.com/contact-us/
https://helpcenter.popularbank.com/question/how-do-i-close-my-account/