These are the major banks that are running their operations in the United States of America.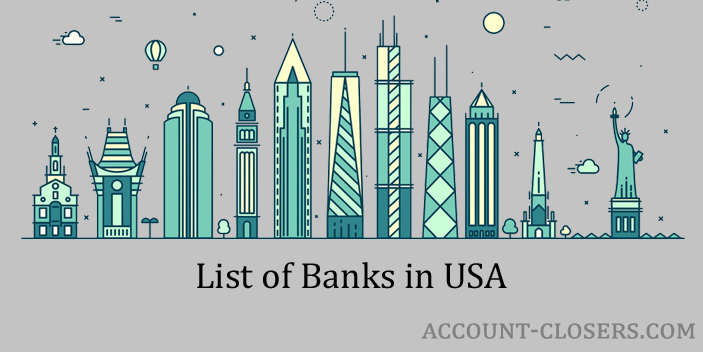 Barclays
Community Bank N.A
Deutsche Bank
E-Trade
First Community Bank of Central Alabama
First Merchants Bank
Investors Bank
Mizuho Bank
MUFG Union Bank
New York Community Bank
Prosperity Bank
Rabobank
Silicon Valley Bank
Southside Bank
Sumitomo Mitsui Financial Group
Sun Trust Bank
Synovus Bank
TCF Bank
The Bank of New York Mellon
TIAA
Truist Bank
Trust Mark National Bank
UBS
UMB Bank
Union Bank and Trust
United Bank
United Community Bank
Wintrust Bank
Please note:
This list does not include all the banks that are operating in the United States of America.
The list is sorted A to Z in alphabetic order.
If you use the hyperlink you will be taken to the bank account closing guide of that particular bank.
This list does not include investment banks.
References Used:
https://en.wikipedia.org/wiki/List_of_largest_banks_in_the_United_States
https://www.bankllist.us/list-of-banks-in-usa