Banks are everywhere, no matter in which part of the world you live. There is a bank available to provide you the banking services. And when we look at the banking industry in the United States of America there are so many banks. You have the flexibility to choose any bank. And today I will tell you how you can close KeyBank account if you have decided to do so.
The concept is simple if you are not using a bank account anymore. Or if you don't like the service of the bank then you can switch to another bank. But before you close the account I recommend you to open an alternative bank account for yourself. Choose any bank that you feel is the right one for you and get your new account with them. But make sure you choose the right bank for you this time.
That is because it is not a good idea to switch banks frequently. If you need assistance in choosing your new bank. Then I have an article for you. Read my list of 9 questions that you can ask your new bank before opening the account with them. And based on the answers you receive from the bank you will be able to decide if you should open the account or no.
Other than this the thing you should note is there should be no negative balance or dues in your account. In case if you have any. Then you should first clear all those dues and then KeyBank will allow you to start the process of closing the account. This is mandatory, not only with the KeyBank but with all the banks that are operating around the globe.
About KeyBank

| | |
| --- | --- |
| Type | Public |
| Founded | 1825 |
| Headquarters | Clevland, United States of America |
| Number of Locations | 1,100+ |
| Number of Employees (2019) | 17,500+ |
| Official Website | www.key.com |
Steps to Close KeyBank Account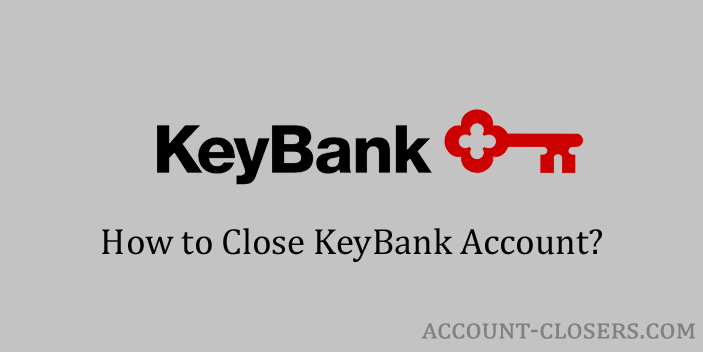 Before I started writing this guide I referred to the official website of the bank. And there I did not find any page that can guide us to close the account. But don't worry I will help you out to get your account closed. There is no online method, but I have explained an offline method below. This is for those who hold an individual account with the bank. In case you have a joint bank account then refer to this linked guide.
Steps to Close KeyBank Account:
How to Contact the Bank?
If you want to get in touch with the bank. Then you can reach them online using their official website and also by messaging them on their official social media profile. And you can also call them on their phone number. I have provided the contact information below.
Contact Details of KeyBank:
Conclusion
To know more about the account closing charges and other things I recommend you to contact the bank itself. And when you call the bank ask the support executive if you can close the account on call. If he or she says yes, then you can request them on the phone call itself. But for this, you need to answer some account verification questions and your balance should be zero.
References Used:
https://en.wikipedia.org/wiki/KeyBank
https://www.key.com/about/index.jsp
https://www.key.com/personal/contact-us.jsp