Being a customer of the bank you can use the services which are provided to you. And when you feel you are not satisfied with the services or don't want to use them anymore. Then you have a choice to close down your bank account. But you should make sure that you are following all the rules and regulations of the bank. In this guide, I will tell you how you can close Hancock Whitney Bank account.
Before you think of closing down the account you have to check your bank account balance. You have to make sure that there is no negative balance or pending dues in the account. If in case you have any then the bank will not let you close such an account. You have to take the necessary action to clear the dues. Once you have cleared all the dues you can approach the bank and request it to close the account.
When the bank closes the account all the automatic payments and direct deposits will start failing. So to avoid this you have to set up all your automatic payments and direct deposit to your other or alternative bank account. If you already have an account with another bank. Then you are good to go. But in case if you don't have one then choose a good bank for you and get an account opened.
This will ensure your smooth transition from your existing Hancock Whitney Bank account to your new account. At the same time, this will also ensure that you don't lose access to the banking system to make transactions. If you are having issues in selecting your next bank. Then you can read my article in which I have mentioned a few questions you should ask the bank before opening an account.
About Hancock Whitney Bank

| | |
| --- | --- |
| Type | Public |
| Founded | 1899 |
| Headquarters | Gulfport, Mississippi, USA |
| Number of Employees | 3,000+ |
| Official Website | www.hancockwhitney.com |
Steps to Close Hancock Whitney Bank Account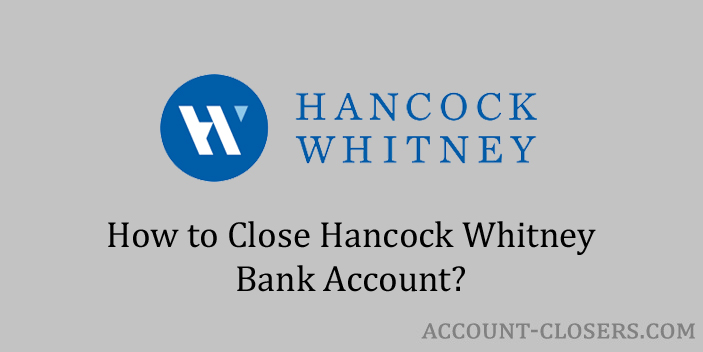 You can close the account by calling the bank on 1-800-448-8812. Give a call and tell the support team of the bank that you want to close your account. The team will help you out with the procedure. Other than this you can also send a written request to P.O. Box 4019, Gulfport, MS 39502. But I recommend you to follow the offline method which I have explained below. If you have a joint bank account please refer to this lined guide.
Steps to Close Hancock Whitney Bank Account:
How to Contact the Bank?
You can reach the support team of the bank using the official website of the bank, by calling the support phone number, and also by messaging on its official social media profile.
Contact Details of Hancock Whitney Bank:
Conclusion
Your account will not be instantly closed by the bank. It will take around 1 to 2 business days so you should cooperate with the bank officials. In some cases, if you are closing down the account very early after opening the account. Then the bank may charge you account closure charges. So to know if you have to pay, I recommend you to contact the bank directly.
References Used:
https://en.wikipedia.org/wiki/Hancock_Whitney
https://wallethub.com/answers/ca/close-hancock-and-whitney-bank-account-2140698073/
https://www.hancockwhitney.com/contact-us