For any reason, if you have decided to get your bank account closed. There can be so many reasons to close the account. Let us not get into that. But in case you have decided then this guide will help you to learn the steps you need to follow to close Great Southern Bank account.
No matter what type of account you hold with the bank it can be an individual account or a joint account. There should be no negative balance in your account. In case you have any then you will first have to clear all of those. And then you can approach the bank to close your account.
Once the bank accepts your request and starts the process. You can not use your account for any kind of transaction. This means you will lose access to banking. So to avoid such situations you should make arrangements for your alternative bank account.
If you already have an account with another bank. Then there is no need to open a new one. But in case you don't have then you will have to open a new account for yourself before proceeding further. If you have need assistance in choosing your next bank. Then read my list of questions you should ask your new bank before opening the account.
Being a bank account user, it is quite common that we will be receiving some direct deposits. And we will be having some automatic payments scheduled in the account. But once the account is closed all these will start failing. So you should set up all these using your alternative bank account.
About Great Southern Bank

| | |
| --- | --- |
| Founded | 1923 |
| Headquarters | Springfield, Missouri, United States |
| Official Website | www.greatsouthernbank.com |
Steps to Close Great Southern Bank Account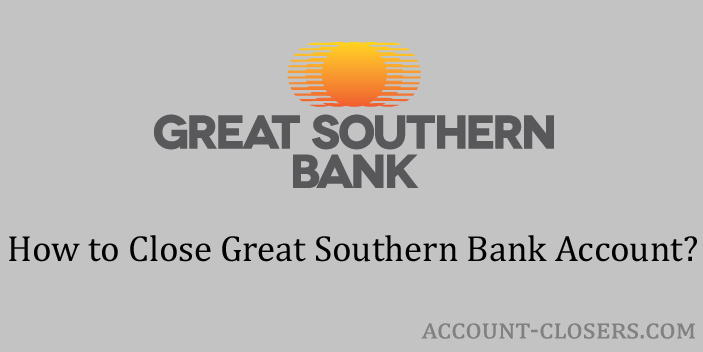 As I was doing my research before writing this guide I found it on the official website of the bank. That you can also submit your request to close the account online. But I recommend you to use the offline method. That is because the offline method has a greater success rate. And I feel one last visit to the branch of the bank won't bother you much.
Steps to Close Great Southern Bank Account:
How to Contact the Bank?
For any reason, if you want to contact the bank. Then you can do that by calling customer care and also by sending a message to the bank on their official social media profile.
Contact Details of Great Southern Bank:
Conclusion
Sometimes the bank may also charge the customers for closing the account. This varies from account type to account type. So to know the exact amount of charges (if any) you can directly get in touch with the bank. And for that, you can use the above-mentioned contact information.
References Used:
https://www.greatsouthernbank.com/about/corporate-profile
https://www.greatsouthernbank.com/about/customer-service-support
https://www.greatsouthernbank.com/assets/files/eccebf00-a311-11e2-bdf3-000000000000