If you have decided to close your bank account then I am very sure that there is some reason behind it. Let us not discuss the reasons and get to the topic straight. In this guide, I will tell you how you can close First Commonwealth Bank account. The process is very simple.
This guide has been written by keeping the individual account holders in the mind. So if you have a joint account with the bank. Then you can refer to this linked guide here. In some cases, if you are closing the account too early. Then the bank may charge you some fees.
The charges depend upon the type of your account, the time when you are closing, etc. So the best thing you can do to know if there are any charges you need to pay is to contact the bank directly. I have provided the complete contact details of the bank at the end of this guide.
But before you approach the bank to close the account you have to make sure you have an alternative account. When I say alternative account I am talking about an account with any other bank other than First Commonwealth Bank. If you already have one then that is good.
In case if you don't have an alternative account. Then I highly recommend you to open one. There are so many banks that are operating in the United States of America. Just choose a good bank for you and get it opened. If you need help in choosing the bank then read this list of questions you should ask the bank before opening an account.
About First Commonwealth Bank

| | |
| --- | --- |
| Type | Public |
| Founded | 1857 |
| Headquarters | Indiana, Pennsylvania, United States |
| Official Website | www.fcbanking.com |
Steps to Close First Commonwealth Bank Account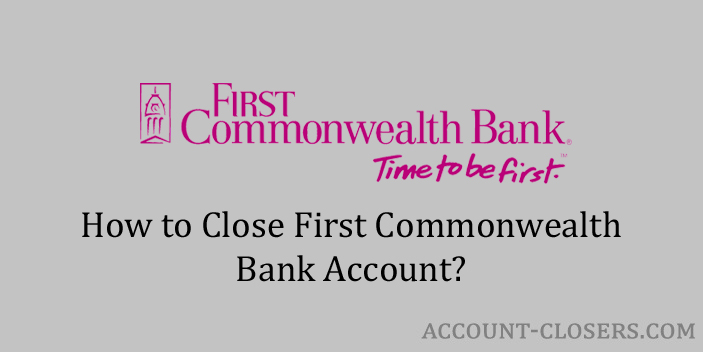 I did not find any online method to close the account. But on the official website of the bank, I found that you can close the account by calling customer care on 800-711-2265. But I recommend you to follow the offline method that I have explained below.
Steps to Close First Commonwealth Bank Account:
How to Contact the Bank?
You can contact the bank by calling the support team and also by messaging on the official social media profiles.
Contact Details of First Commonwealth Bank:
Conclusion
This is how simple it is to get your account closed. Usually, the success rate of closing the account over the phone call is very less. That is why I recommend you to visit the nearest branch one last time and get the things done. Even if there are any complications you can solve them by talking to the bank officials.
References Used:
https://en.wikipedia.org/wiki/First_Commonwealth_Bank
https://www.fcbanking.com/why-us/contact-us/
https://www.fcbanking.com/resources/faq/#11